Hire: Validated hiring
Making the right hire is critical to your organization's success. Increase your odds of placing the right people in the right roles by creating a world-class hiring process for yourself and your candidates. This will save your company time and money and lead to top talent. It's all about following a step-by-step recipe with the goal of aligning your talent strategy with your business strategy.
Where should the PI Behavioral Assessment (BA) go in your hiring process?
Many users choose to implement the BA in a manner that doesn't disrupt or alter their existing workflow. The beauty of talent optimization is that it's a flexible discipline.
You can apply the Behavioral Assessment at the point in your hiring process that makes the most sense for everyone involved – whether that's as the centerpiece, an add-on, or something in between.
Here is what it would look like for your organization to send the BA early vs. later.
Incorporating the Cognitive Assessment
Cognitive data serves as one of the strongest indicators of job performance, when used alongside behavioral data. PI's Cognitive Assessment measures a person's ability to learn, adapt, and grasp new information. It is not an IQ test, but it can offer a key piece of new data when evaluating candidates.
The Predictive Index Cognitive Assessment is a 12-minute, 50-question assessment measuring an individual's general cognitive ability, and is one of the strongest indicators of job performance. It gives visibility into how quickly your candidates will onboard, learn the role and adapt to change. This provides you with confidence that you're making data-driven decisions rather than relying on emotions or guesswork in your hiring process.
It was built and validated exclusively for use in the workplace, and it provides insight into a person's capacity to learn, adapt, and grasp new concepts.
It does not measure IQ or previously acquired knowledge (e.g., job-specific knowledge), behaviors, or willingness to make an effort to learn new things. Rather, it indicates how fast an individual can be expected to acquire new knowledge.
When combined with other selection criteria, including the Behavioral Assessment, resumes, and interviews, our Cognitive Assessment provides a powerful understanding of a candidate's potential for success in a given role.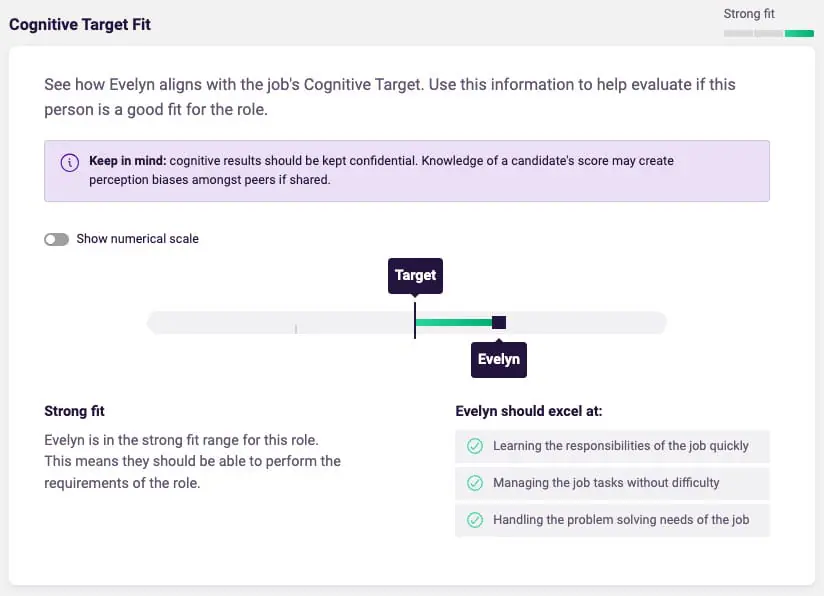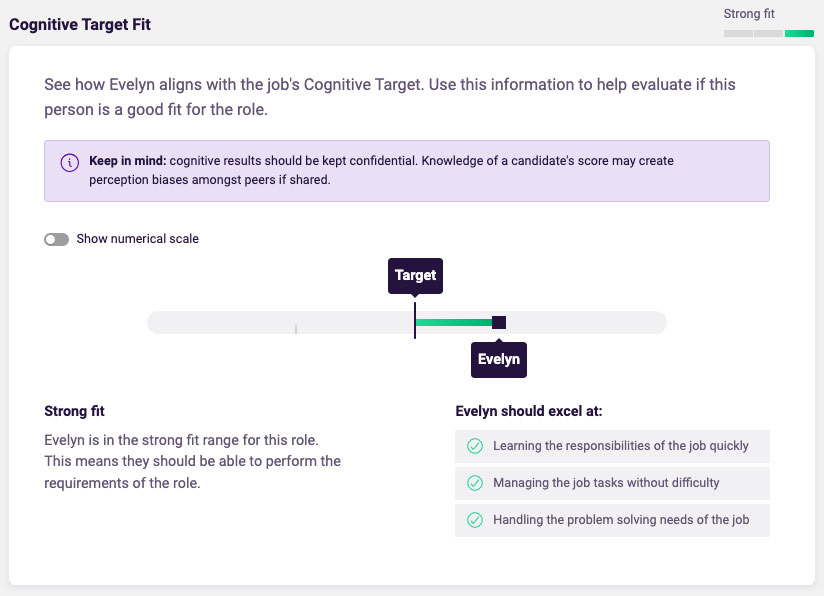 You can use the Cognitive Target for roles that require:
Learning new skills
Adjusting to new scenarios in the workplace
Processing information at a quicker pace
Don't use the Cognitive Assessment for:
Roles that don't have potential for advancement
Positions with minimal complexity
Instances in which a candidate's disability compromises their access to or completion of the assessment in the allotted time.
We also provide you with fit ratings, which gauge how your candidates' assessment scores align with the Job Target you've established. You can use these to rank and prioritize candidates, to review them further, or to guide interviews, but they are not designed to be used as a sole decision-making measure. Any assessment used should be considered as another data point through which you evaluate your candidate.

Improving the entire process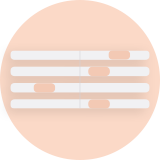 Job targets are a key resource in Hire. Learn how to build them with confidence.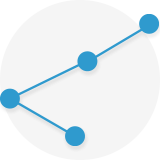 Explore how certain behaviors commonly show up in the workplace.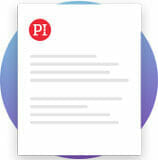 Promoting fair & responsible use
Understand how to use assessments in an equitable and responsible manner.
Was this page helpful? Spot a typo or inaccuracy? Let us know.
Inspire: Leadership development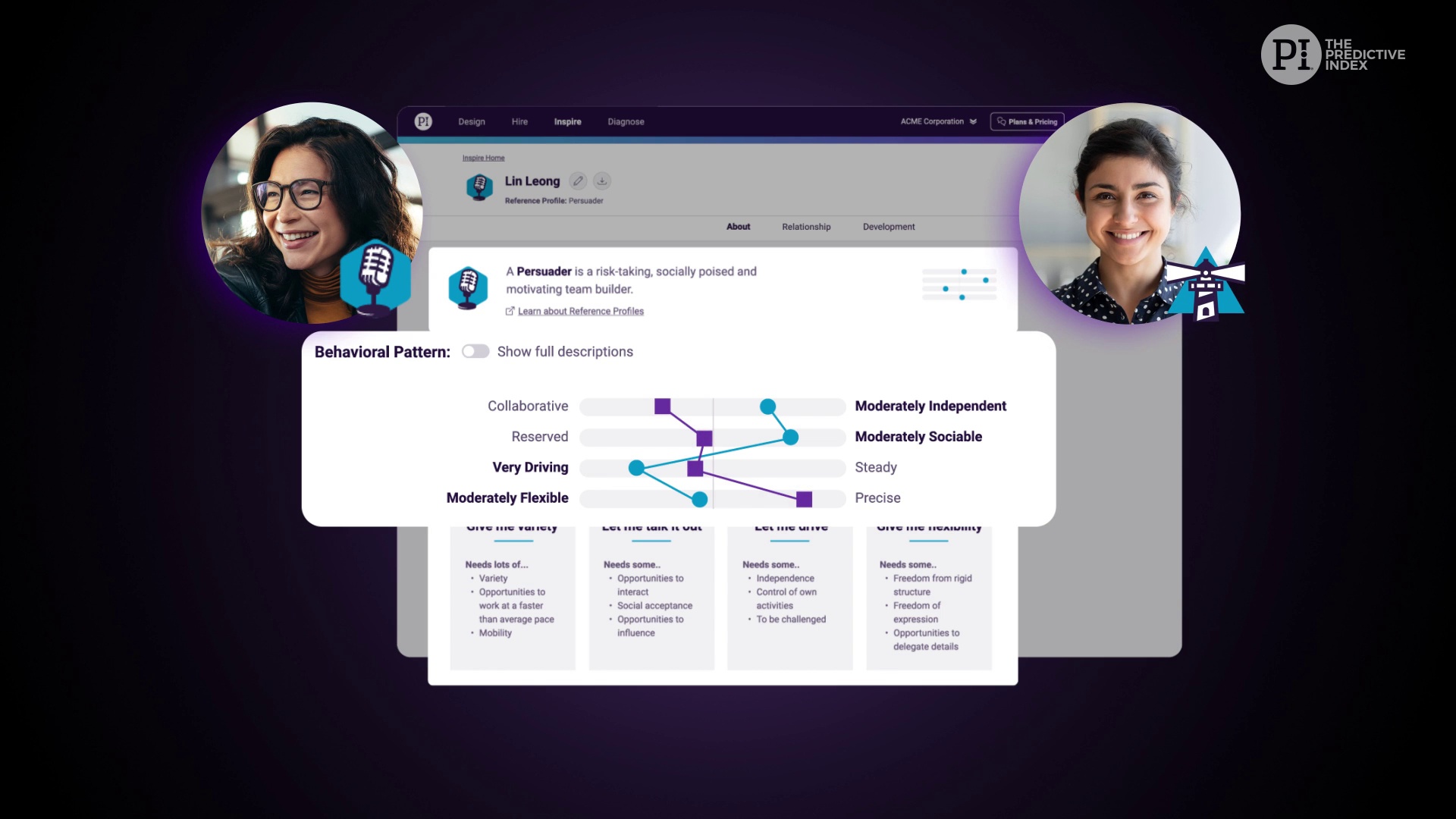 It can be challenging to embed new tools into existing processes. But when it's a tool like PI Inspire—one that helps you onboard employees, reduce turnover, improve relationships, and empower leaders at every level—there's really no time to lose. If you don't give your managers and their people the tools to be successful, you risk losing them altogether.
Have you ever encountered any of the following scenarios?
"I have a manager who isn't sure how to give feedback."
"I have team members who can't seem to get on the same page."
"A top performer asked for additional leadership opportunities."
"I'm worried about turnover we're experiencing."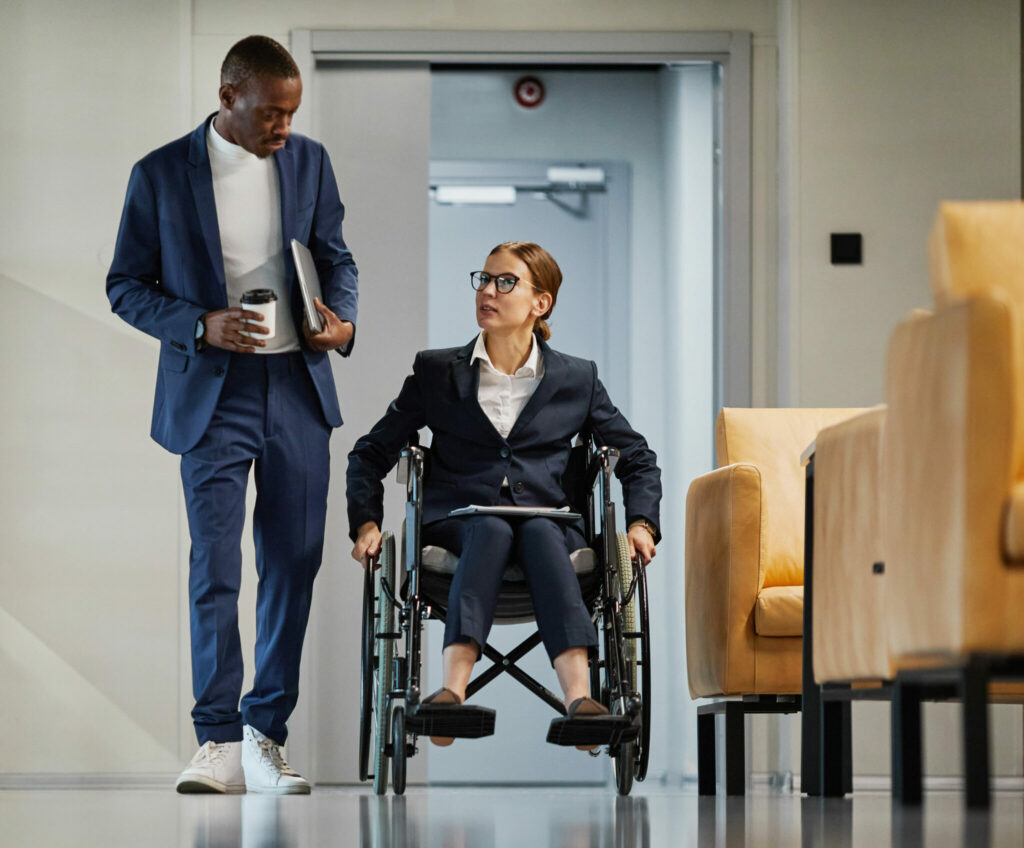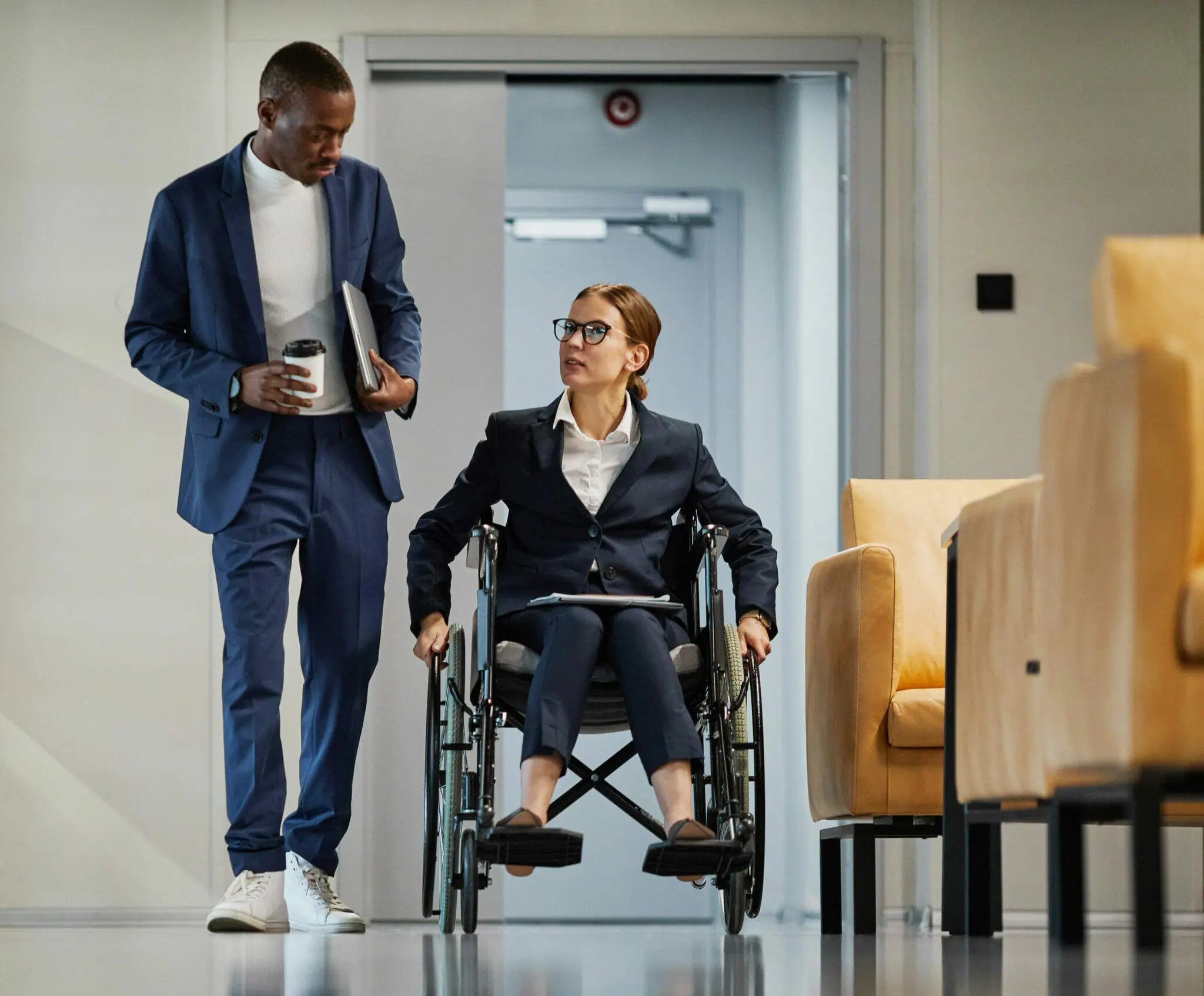 When you invite co-workers to Inspire, it'll help them understand their strengths, caution areas, and preferred work styles.
Building awareness of how everyone is wired will mean less time spent managing conflict and more time spent driving the business forward. By understanding where you're similar to and where you differ from your peers, you can foster an environment where employees tap into their strengths and embrace areas of opportunity. Use Inspire's behavioral insights to have honest conversations with people to help them be successful at your organization—now and in the future.
3 steps to roll out and get value from PI Inspire
Excited about Inspire, but not sure where to start? We've got you covered. Below are three steps to help you introduce Inspire to your organization. Be sure to bookmark this page so you can return to it as you progress through each.
1. Strategic planning and communication.
If you could wave a magic wand, what's the number one business issue or people problem you'd like to address? 
Most of our clients who use Inspire are trying to decrease turnover and increase leadership capabilities across the organization. The data and insights you'll see can help foster an environment where employees understand themselves and each other, which allows for honest conversations based on what people need in order to be successful in their roles and at your organization.
One thing to consider are any upcoming strategic initiatives Inspire can help with. 
Inspire can play a vital role in any performance conversations and strategic planning. Coach employees in a way that fits their natural behaviors. By understanding the person and the role they're in or the role they'd like to be in, you can address any gaps between behavioral drives and behaviors required for success in the role. Knowing this can help you set employees up for success in their careers and develop leaders at your organization.
Once you've identified a problem, we can begin to prescribe a solution. 
With your plan of action set, it's time to share it with your organization. If you haven't already looped in other key stakeholders (a CHRO, Director of L&D, your IT department, etc.), now's the time to do so, and get sign-off. 
Schedule a meeting with your employees (or dedicate time during your next company meeting) to introduce everyone to The Predictive index [presentation | video]. Use this time to explain what PI Inspire is, how the PI Behavioral Assessment works, and what the assessment-taking process looks like.
Consider your audience. If you're presenting at an all-company meeting, you likely have a mix of executives, middle managers, team leads, and individual contributors all in the same room. Tailor your messaging based on the crowd, and articulate both the why behind Inspire and how Inspire makes their work lives a little easier. 
Then comes the most important part: questions. Leave ample time during the meeting and provide a place afterwards for employees to ask questions.
---
2. Manager orientation.
One of the keys to success in Inspire is empowering your managers to use the data and insights with their teams. After all, they're the ones that are going to lead the conversations when there are employees who want to talk about career growth, working with new colleagues, and handling conflict.
Be sure to review and align on expectations with anyone with direct reports. They'll need to understand how PI will be used at your organization and how they'll be expected to lead the conversations that come up in team meetings and one-on-ones with their direct reports.
There are several ways to get your managers excited and aligned. We recommend our Leadership and Management Certification or, for those who learn better through guided facilitation, our Inspire People to Perform workshop for managers.
---
3. Get started with PI Inspire.
All that's left for your implementation is to send the assessment to your employees. 
If you're only inviting a few people to start, you can send individual invites. If you're an admin in the software, you'll probably want to use our bulk invite feature, which enables you to send the assessment to multiple people at once.
After you have employees using Inspire, you'll want to schedule meetings to discuss their results. You can do so as a group or you can talk individually via one-on-one sessions. As with so much of Inspire, you have the freedom to use the software how you see fit.
---
Keep the momentum going – manager development
The data and insights in Inspire are designed with progress in mind. The more time you invest and the more you share these insights internally, the more knowledge—and value—you gain.
Here are just a few examples of how to use Inspire in the coming weeks and months:
Onboarding a new hire? Pull up their results and share them with your team. You should also share the team's results with the new hire. This way, everyone has an understanding of what they need and what others need to be successful.
Leading a project? Encourage everyone on the team to view their relationships with individual co-workers before getting started. Who would be best suited to lead communication? Which team members will tend to be more innovative and who will keep project scope (timelines, etc.) on track?
Promoting a direct report? Revisit their results to identify growth opportunities in their new role and to prepare for areas that require different behaviors than the role they're leaving so they understand where they'll need to stretch and where they might need assistance while they get up and running.
Sensing some tension? Ask your employees to be vulnerable. How can you help them thrive? Improve your leadership style with our management tips. Improve their working conditions by having them view relationship insights with other team members.
Business is ever-changing. Conflicts and changes in performances are inevitable. Inspire gives you the tools to address those problems in a timely, thoughtful, and compassionate way. Introduce the software to your people, and never look back.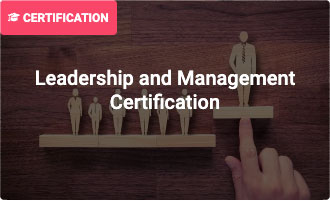 Help managers coach their teams to greatness.
Learn how to unlock strategies to motivate and manage your employees based on their individual working styles. Strengthen your own capabilities and identify where you'll need to adapt to create a thriving team. Build a team that drives results.
Was this page helpful? Spot a typo or inaccuracy? Let us know.
Design: Team development
PI Design lets you see and improve any team's chance of success. Compare the work you're doing with the people doing the work. Discover what motivates your team so you can play to your strengths, close any gaps, and crush your goals. You can turn any team into a dream team.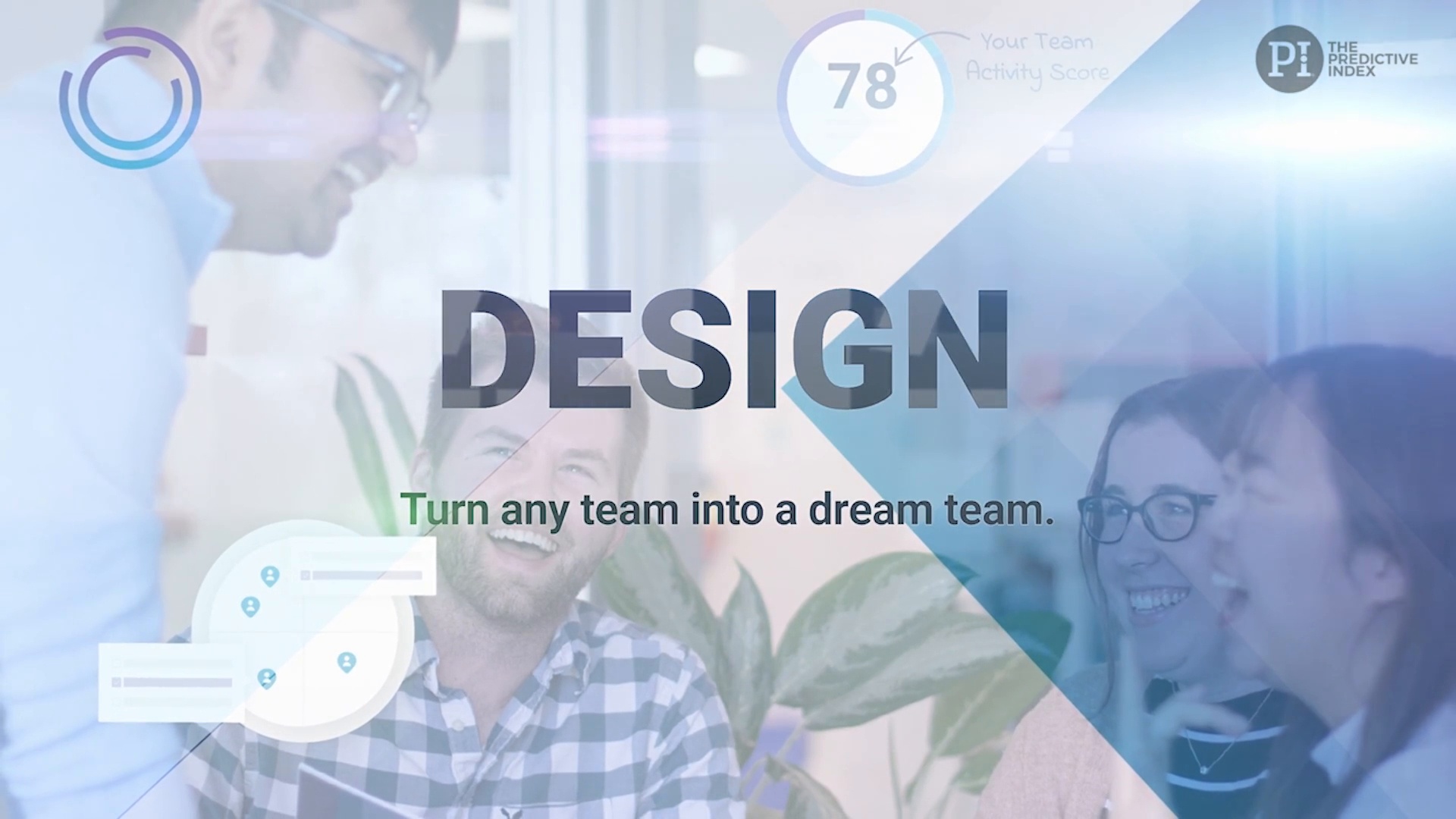 Common use cases
Looking for inspiration on how to leverage PI Design? This video series provides tips to tackle any team scenario with confidence:
Advanced learnings
Want to learn how to build high-performing teams from scratch? Explore our courses—including a free certification—and unlock strategies to build collaborative teams that deliver consistent results.
Was this page helpful? Spot a typo or inaccuracy? Let us know.
Diagnose: Employee engagement
PI Diagnose provides science-backed surveys and prescriptive recommendations that help you understand your employees needs, and make meaningful, lasting improvements at your organization.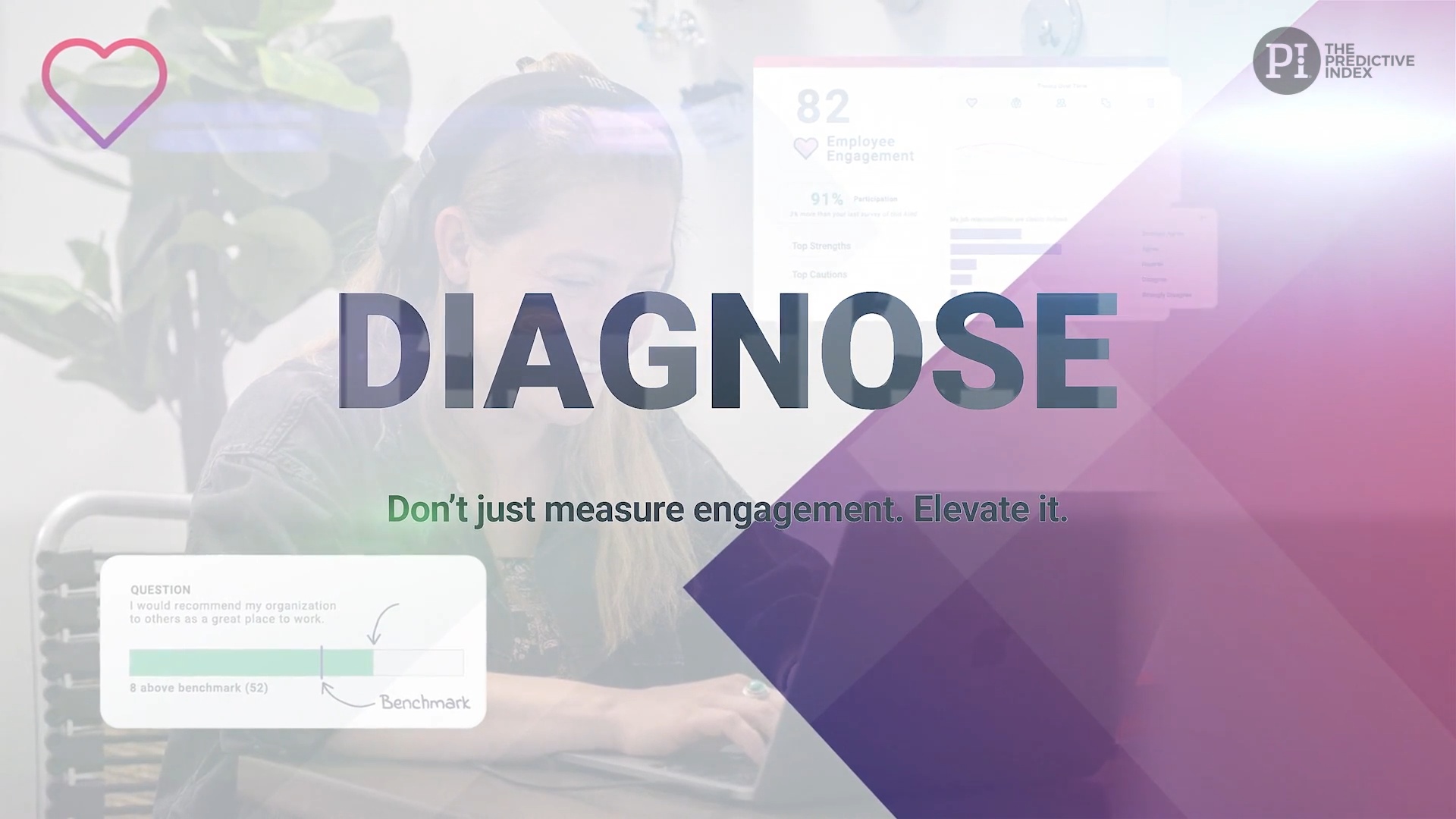 Continue learning about Diagnose
Was this page helpful? Spot a typo or inaccuracy? Let us know.
Introducing PI to your organization
Welcome to the Predictive Index (PI) community! You're about to embark on a powerful journey. The decision to learn more about your employees and their needs and your belief that your people are your most valuable asset is what brought your organization to PI. We're committed to helping you improve the working lives of your people through talent optimization — the practice of aligning people strategy with business strategy to achieve results.
We're excited. You're excited. Now it's time to get your organization excited!
Step 1: Prepare
When you're preparing to communicate about PI to employees at your organization, ask:
Who is our audience?
What do we want to communicate?
Why have we invested in PI and what are our goals and objectives?
When, ideally, would we like to have PI implemented?
What questions might people have and are we prepared to answer them?
It's often easier to roll out a new program if you incorporate it into existing processes. When evaluating this, consider:
What level of participation we need to be successful?
How PI will change how our employees currently operate?
Which features and insights would be beneficial for employees to see?
What is the timeline for making these resources available?
How will we introduce new employees to PI so they can onboard quickly with their manager and team?
Now that you've taken stock of your ideal rollout plan, it's time to help your employees feel comfortable with PI.
Step 2: Communicate
How you introduce PI to your current employees makes a huge difference. The more people in your organization who understand how PI works, its benefits, and how it will be used, the more comfortable they will be and the more they will participate. You'll see the most value when everyone is speaking the same language. Getting people to realize that behavior and needs are at the center of what we do and that we should all be aware of each other's needs is critical.
Successful adoption starts with communication to make sure everyone is aligned on and aware of expectations. We've found that hosting a ​Lunch & Learn​ ​to discuss PI with your organization can also help set the foundation and expectations for employees at all levels of your organization. You can use this presentation and/or show this video to educate them about the basics.
Step 3: Send the PI Behavioral Assessment
Successful adoption starts by assessing your employees. When employees understand themselves and their peers, they develop more productive working relationships and find the value of PI. Getting and sharing the data and insights helps everyone.
Not sure what to say? Here's a sample email to employees.
"Our people are our most valuable asset and we're committed to providing a dynamic environment where everyone can be their best. As you heard at the [MEETING, DATE] or saw in the company email, the Predictive Index® Behavioral Assessment will help us be more aware of what drives and motivates ourselves and each other.
We're eager to start using PI, so please complete the assessment by [DATE].
If you have any questions or would like to find out more about this exciting new initiative, please reach out to [INTERNAL CONTACT]."
---
Not quite ready to assess the entire organization? Take smaller steps to get started:
Take the Behavioral Assessment yourself, and understand first hand what your employees will experience. Many clients assess their C-Suite first, so everyone can see how it works and align on how it will benefit their teams.
Invite a single department to participate. Many clients have found the Sales team to be great pilot participants.
Continue to share the value of PI with your organization and look for successes to share with the broader organization.
Step 4: Answer employee questions
People may have some anxiety over taking an "assessment." They may think of it as a "test" or something they can fail. We want to make sure everyone knows there is no good or bad result to the BA. It's a tool to help everyone understand what you need to succeed.
If an employee has questions about how the results will be used, let them know first and foremost that you plan on sharing the results with them directly. This will most likely take some of the fear out of taking the assessment.
The last thing you ever want to do is force someone to take an assessment. If you meet resistance and an employee doesn't want to take the assessment, let it go for a little bit. The best thing you can do is educate them on the "whys" and let them see it in action first. Typically, once someone sees how beneficial this information is to an organization, they too will want in on the action. But let them get there on their own.
Employees may be unsure of how their results will be interpreted or used and may be nervous or uninterested in participation. Here are some questions you might encounter.
What is this? The PI Behavioral Assessment is an untimed, free-choice, stimulus-response tool that measures an individual's motivating drives and needs. It has been used by thousands of businesses around the globe for decades to assist in hiring, coaching, motivating, developing employees, and improving organizational culture.
What if I do it incorrectly? There are no right or wrong answers – it's not a test.
Are there any rules? Just make sure you're not distracted. Read instructions carefully and use your own judgment to answer questions. If you do not understand a particular word, just skip it.
Is it timed? Time is not a factor; take as much time as you need.
Step 5: Get started in each product
Now that your current employees understand what PI is and how your organization plans to use it, it's time to dive into each product you plan to use. It's also important to make sure you understand how you'll introduce PI to candidates (Hire) and new employees during onboarding (Inspire). The sooner they see it in the process, the sooner you'll see results.
Each one incorporates self-awareness and awareness of others. Once we know what we need and what others need, we can make sure people are in the right roles, being managed in the way they need, solving conflict, improving team performance and the overall organizational culture.
That's what we call talent optimization — the practice of aligning people strategy with business strategy to achieve results.
Was this page helpful? Spot a typo or inaccuracy? Let us know.