With the rise of remote and flexible work, today's workforce can work from anywhere at any time. While that's convenient and desirable for many employees, it can make collaboration a lot more difficult than it's traditionally been. 
The good news is there are a plethora of technologies available to help people communicate with each other and work together. 
We reviewed and rated collaboration tools based on price, ease of use, and benefits to team productivity. Here are our five favorites for team collaboration:
1. Slack

Slack is one of the more well-known team collaboration software platforms. It allows for instant communication, file transfers, and the ability to create shared channels and workspaces for clear delineation of different projects and interests.
With a whopping 10 million daily active users, it's clear Slack is a favorite for companies of all sizes and varieties.
Price:
Slack's friendly, per-user pricing starts at $6.67. That gets you all of the core functionality you'll need as a small or mid-sized business. 
Slack's "Fair Billing Policy" states you're only billed for active users, so if not everyone on your team uses Slack, you won't get billed for their seats.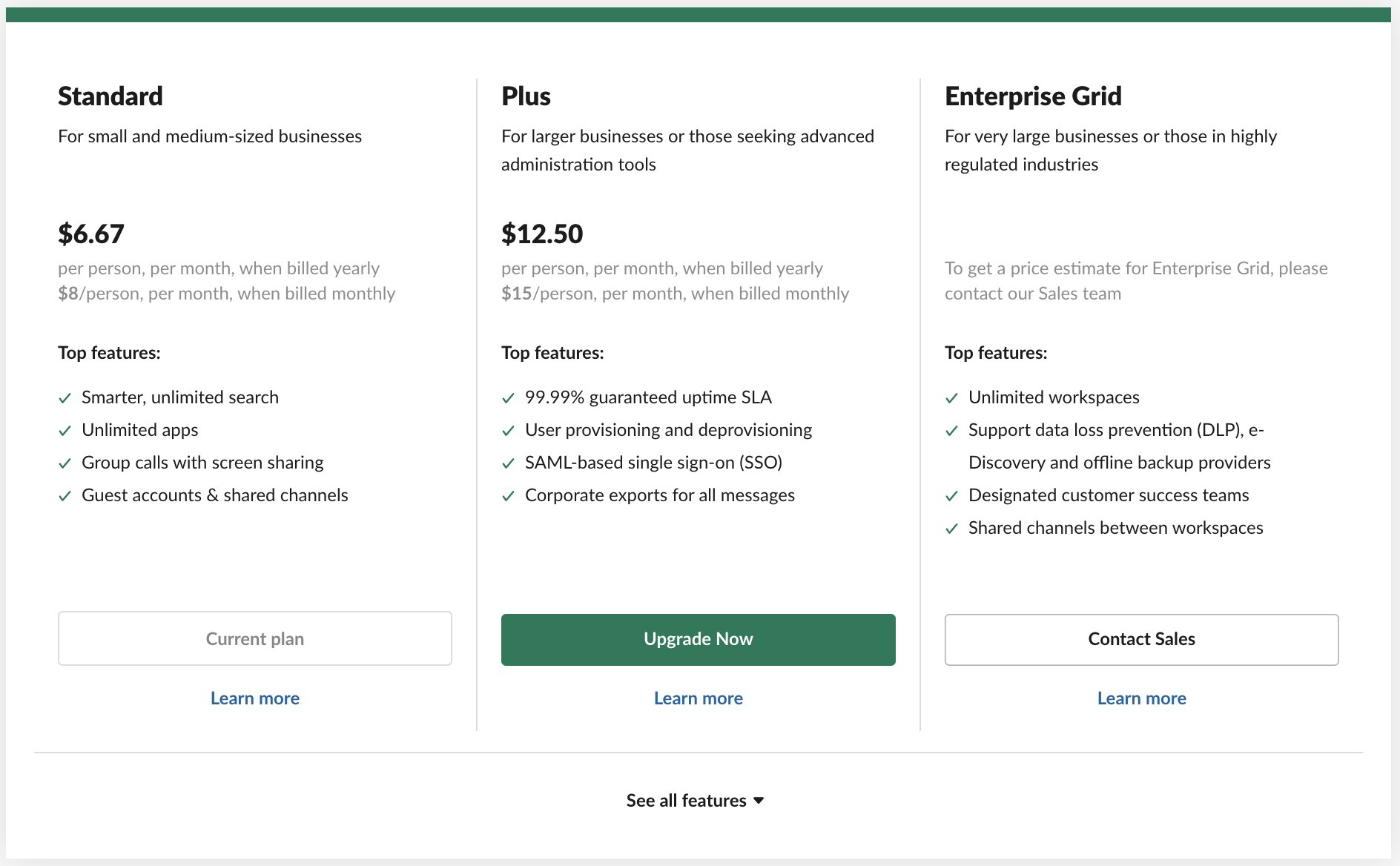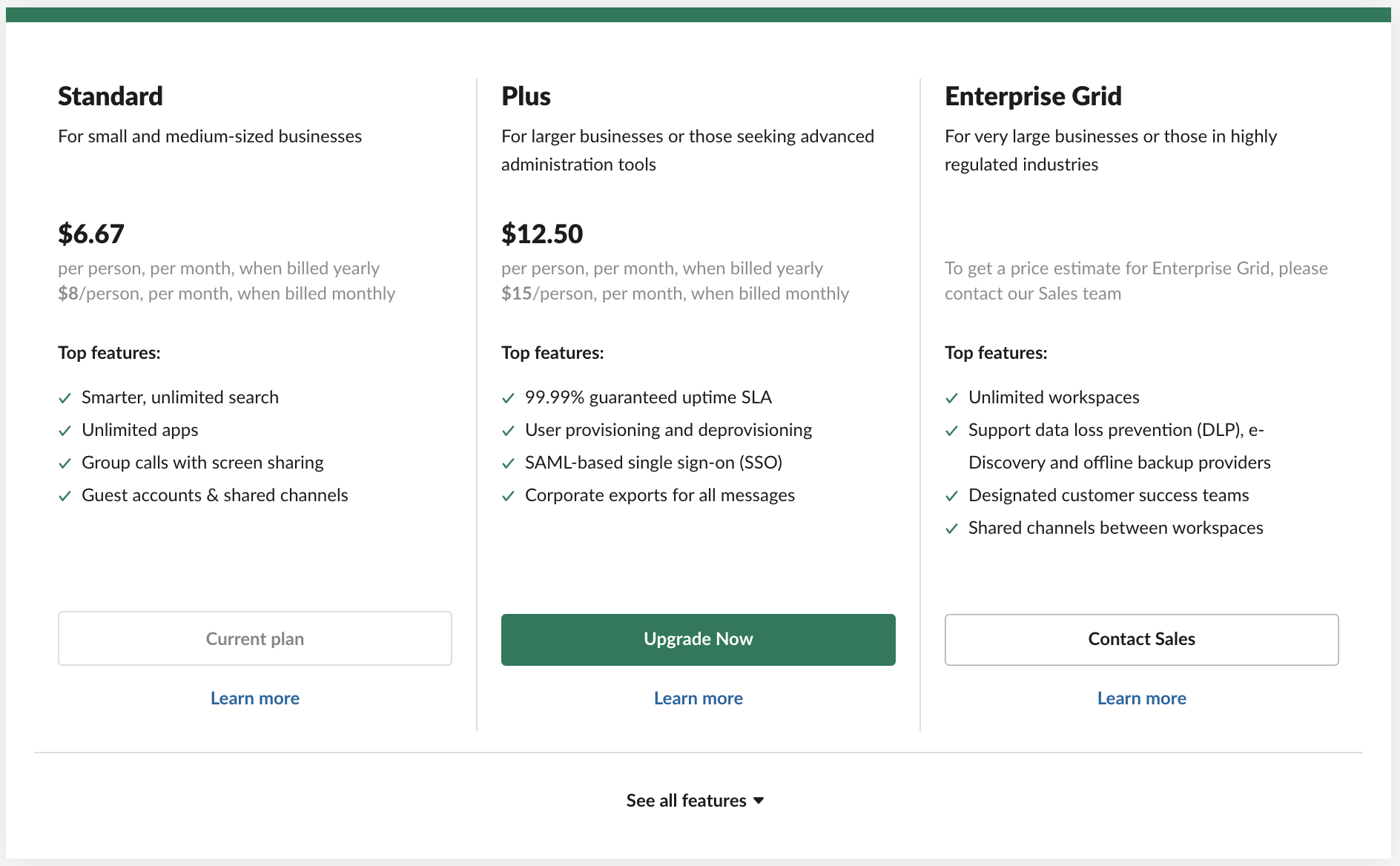 Ease of use:
Slack's user interface (UI) is extremely user-friendly. It was designed to increase transparency across all levels of the company, and acts as a potential replacement to email, instant messaging, and text messaging.
The interface is simple to navigate, even for first-time users. Starting conversations and channels are intuitive from the get-go—and Slack offers a comprehensive help center for troubleshooting problems.
Benefit to team productivity:
Slack can be a boon to your business. You can:
Communicate with team members across locations

Send files for collaboration

Tag people in action items that need immediate attention

Have impromptu video calls

Create fun community spaces (i.e., "channels") to connect over similar interests
On the flip side, because Slack is offered as a desktop and mobile app, the lines between working hours and non-working hours become blurred—especially if people enable notifications to be pushed to their attention. So this might be something you'll want to keep an eye on.
The ability to create channels for activity unrelated to business can also be distracting for people unused to protecting their time from the allure of informal and fun side conversations.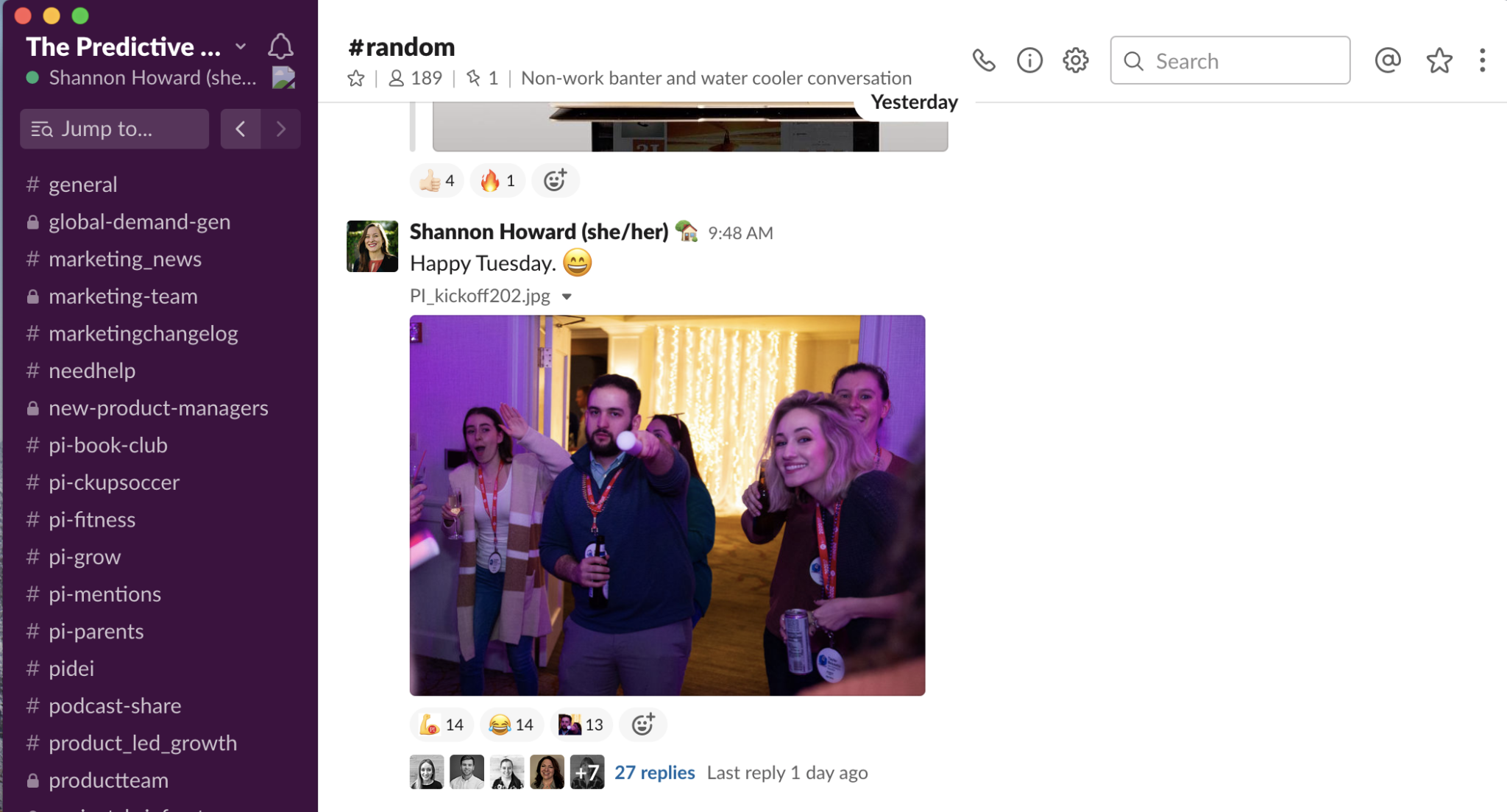 Overall rating:
Slack gets a 4.8/5 stars for: 
Its freemium offering that's friendly to small businesses and fair billing policy that extends a flexible pricing strategy for all paying users

Preserving culture by making communication feel seamless across on-site and remote workers

File-sharing capabilities that kick-start group work and idea sharing
2. Zoom

Zoom is a video conferencing software companies can use to run everything from video calls to webinars to online meetings. Its founder was a lead engineer at WebEx—another video conferencing company. 
Price:
Zoom has flexible pricing, allowing customers to customize their subscription. For example, they have plans oriented solely around webinar and/or event-hosting, and plans catered to setting up video conferencing systems in conference rooms. Their plans are also organized based on the size of your team(s). 
Zoom's Business plan is $19.99/month, making it much more affordable than other big players in the video conferencing space.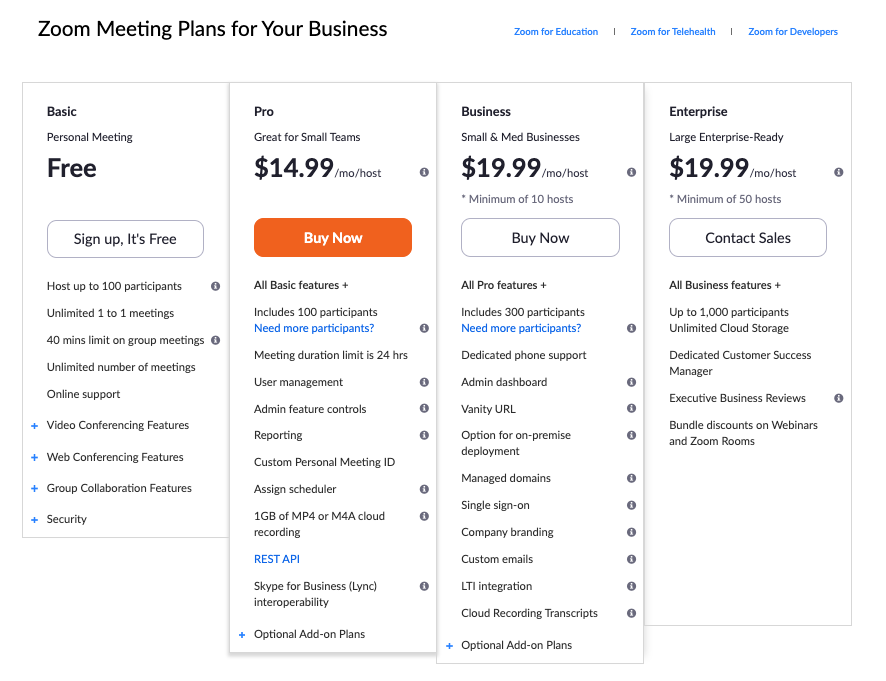 Ease of use:
Based on G2Crowd, an established peer-to-peer review site, Zoom is considered a user-friendly platform. People can easily start or schedule a meeting with one click.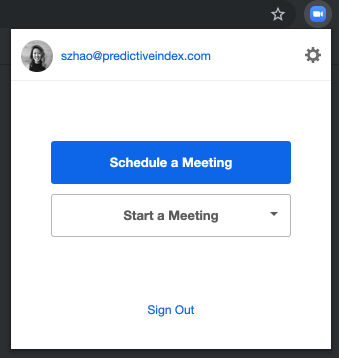 Benefits to team productivity:
Zoom is a must-have for companies today. It can replace phone conferencing as a tool for including remote workers—and it solves those awkward moments when people start to talk over each other because they can't see each other. 
Screen sharing options allow everyone to look at one document or visual at the same time, and meetings can also be recorded for future reference or for training purposes.
Overall rating:
Regardless of which option you choose, a video conferencing system should make up a core component of your team collaboration tech stack. With today's distributed workforce, video conferencing is a must—not a nice-to-have. 
3. G Suite

There are more than five million businesses paying for Google's broad range of team collaboration and productivity tools. The search engine giant has its hands in a lot of pots—and one of these pots is its cloud-based productivity and collaboration tool G Suite.
Their major offers include Gmail, Google Calendar, Google Docs, Google Sheets, Google Slides, Google Hangouts, and Google Drive.
They compete against Microsoft Office. In 2018, Bitglass, a cloud security firm, conducted a study showing that 24.8% of businesses used G Suite—compared with 56.3% of businesses using Office 365.
Despite Microsoft Office continuing to hold the lion's share of the market on productivity suites, G Suite is a strong contender in this area because of one key collaboration feature: online editing. Users can share documents with their colleagues and multiple parties can edit the same document or slide in real-time, allowing people to streamline efforts and collaborate that much better.
Pricing:
The G Suite's Business plan runs at $12 per user/month, compared to Microsoft 365's $12.50 per user/month.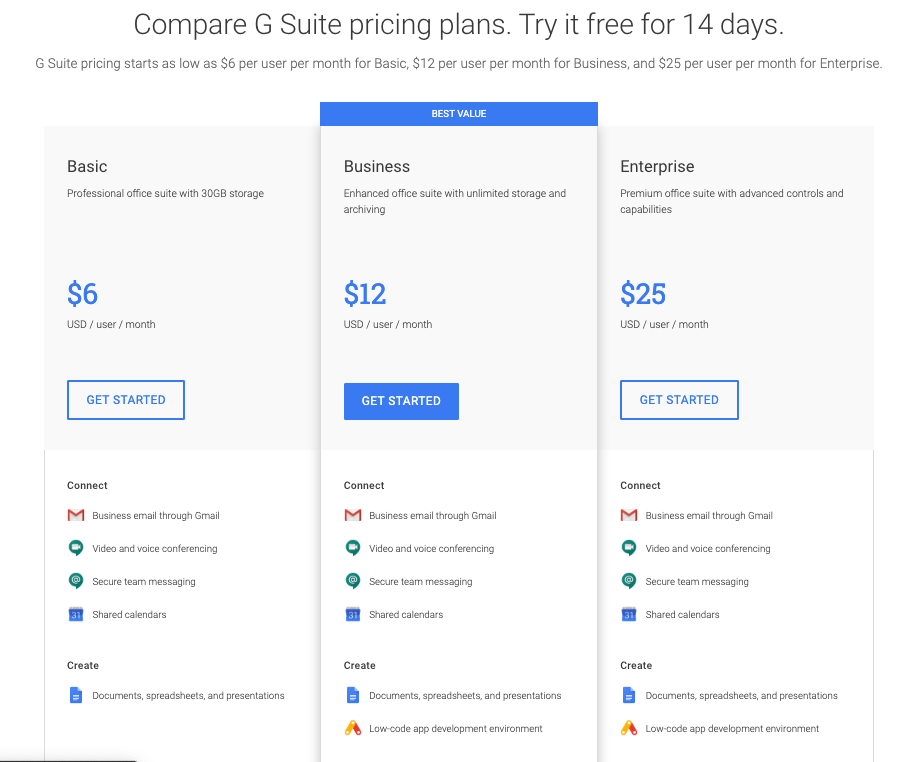 Ease of use:
As a basic online, real-time editing piece of software, G Suite gets the job done quite well. Also, there are countless "add-ons" to further help you boost team collaboration and productivity. 
Benefits to productivity:
The ability to work together on a document at the same time is a true differentiator for Google Docs/Sheets/Slides. You can also tag colleagues to assign tasks or ask questions, alerting them to something that requires their review or attention. 
Overall rating:
G Suite gets a 4.7 out of 5 stars mainly because it's a relatively new kid on the block, trying to gain ground in a productivity industry dominated by Microsoft. Most people will have experience with Microsoft Office offerings first, which makes some G Suite features jarring at worst and annoying at best. However, those differences are a small drop in the pond compared to the instant collaboration gains.
4. Asana

Asana is a project management software used to help teams improve the organization, tracking, and delegation of projects. It was founded by Dustin Moskovitz, a co-founder of Facebook.
If your company manages a lot of cross-functional tasks and projects, Asana may be the right solution for you. The web and mobile versions of the application allow users to input projects, create subtasks, and assign action items to other team members. It also offers users the flexibility to choose the view that works best for them, whether that's viewing an entire project or viewing only their assigned action items.
For teams who conduct projects in sprints—such as product management or engineering teams—Asana can be extremely helpful.
Pricing:
Asana has gotten some flack for their complicated pricing. Pricing is based on a per-seat basis, which is common enough, but the features included with each plan are specific and numerous.
Thankfully, you can toggle the pricing with their interactive calculator to quickly get a sense of how much you'll be investing in the project management tool.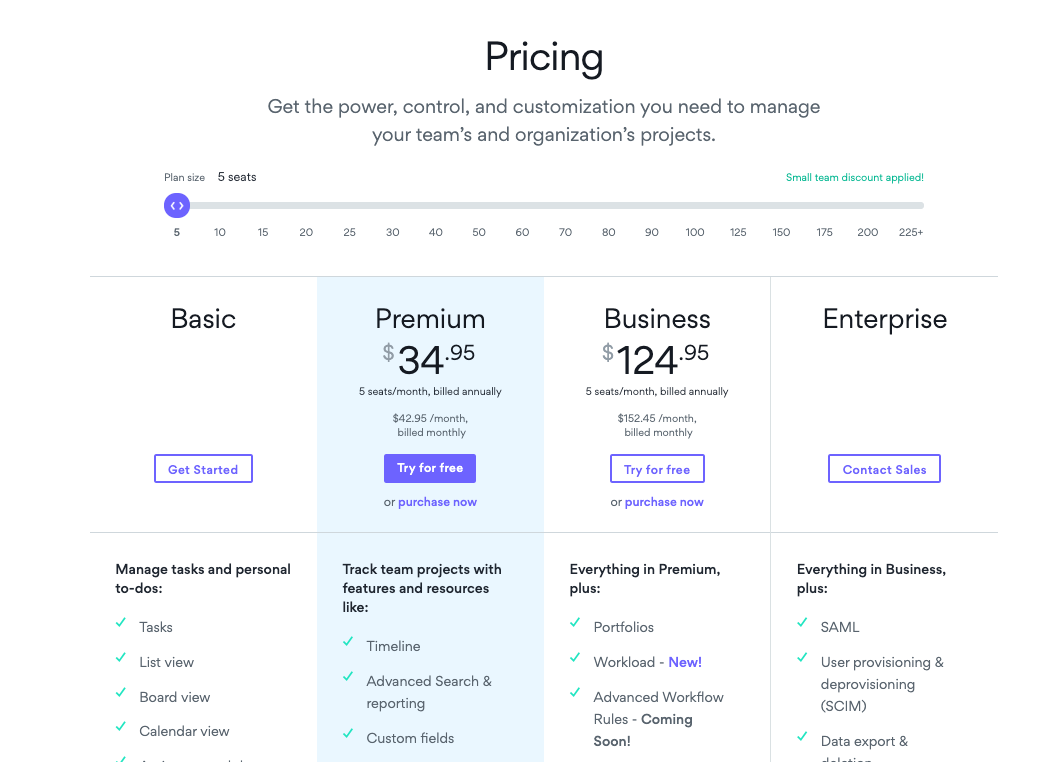 Ease of use:
The UI is relatively intuitive and easy to navigate. There are multiple ways to visualize your projects to fit the type of project or the preference of the user.
Asana has a healthy, robust online guide to help new users learn the tool. However, first-time platform users might struggle to learn the jargon native to Asana.
Benefits to productivity:
Asana is most effective if user adoption is company-wide. Some teams or departments may find it more useful than others, as their work may be more campaign- or sprint-based. 
The act of inputting each project or task into the tool may not be how every person chooses to go about organizing or socializing their work. So expect some resistance if you decide to roll it out to everyone.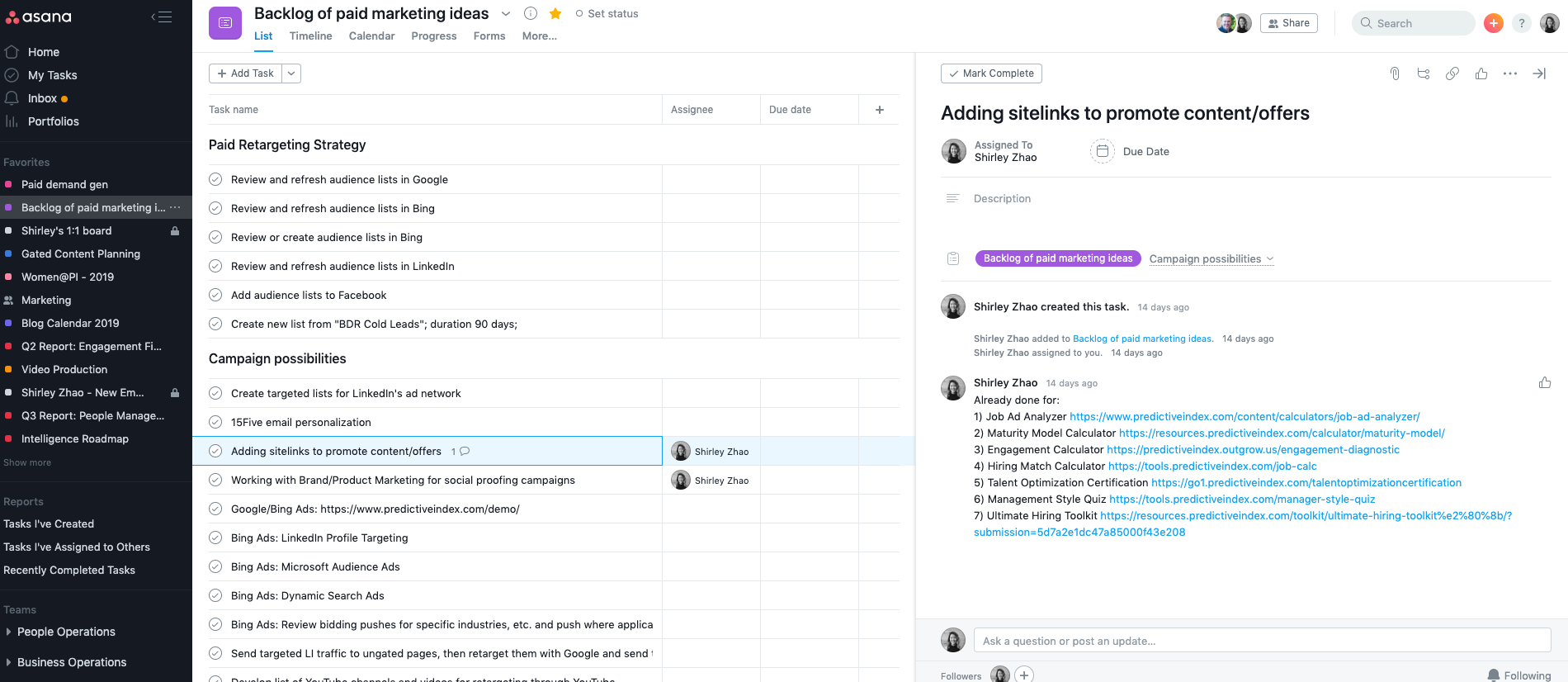 Overall rating:
Asana gets a 4.3 rating because of their complicated pricing strategy and the fact that it's not a task management methodology all employees will enjoy. If team members prefer organizing tasks differently, Asana can be restrictive.
As a collaboration tool, Asana checks most boxes, as it creates visibility across the company into what every team is working on (as long as the workspaces are public) and is excellent at task management. 
5. Miro

Miro is an online collaborative whiteboard platform. It facilitates digital whiteboarding sessions for distributed or remote teams. If your company employs Agile practices or design thinking, the tool can be especially helpful for collaborating to create visual workflows in real-time.
Features include templates and tools for user stories, customer journey maps, wireframing, sprint planning, retros, and more. 
Pricing:
Much like the other collaboration platforms, Miro offers a free version of their software. Paid subscriptions offer the usual per user pricing. For companies with 20-49 users, subscriptions are only $16/user per month.

Ease of use:
The Miro platform is easy to jump into and learn. They also offer resources—such as Miro Academy and a comprehensive Help Center—for further training and support. 
Benefits to productivity:
While there are many widely adopted products for project management, video conferencing, and file sharing, few offer distributed teams the ability to work on visual brainstorming together. Remote workers are all too familiar with watching their in-office counterparts draw on a whiteboard while struggling to see what's being created.
Beyond benefits to remote inclusion, Miro also offers quieter team members the opportunity for their ideas to be shared, seen, and heard. This helps overcome the "loudest person in the room syndrome" by giving less vocal teammates an opportunity to get ideas on the table.
Due to its digital nature, Miro makes this visual collaboration not only possible but enjoyable for everyone involved. Whether in-person or elsewhere, colleagues can collaborate on a digital board that updates in real-time.
Overall rating:
Miro gets a 4.7 rating for its ease of use and how it provides a solution to a common problem other software doesn't solve. 
Miro takes a -0.3-star hit for its pricing, which can get tricky to navigate depending on how many users you have, and slow load time for large files or complex boards. 
If your company works in sprints or has a heavy design function, Miro is a must. 
6. Teamwork
Teamwork is a growing project management software trusted by over 20,000 companies. It's simple to use and allows you to manage multiple complex tasks with ease.
It is not only powerful and easy to use but is also very flexible allowing you to customize your workflow.
Price:
Teamwork offers a number of different pricing plans meaning you can choose one which is right for you depending on your usage and requirements.
Pricing plans can be monthly or annual and range from free through to an enterprise package which would require quote depending on requirements. There is also a 30 day trial option for newcomers.
Ease of use:
Teamwork pride themselves on the ease of use of their platform. Features such as dashboard, board view and project health status updates allow multiple tasks to be tracked.
The user interface is intuitive and easy to navigate, even if you have never used the Teamwork platform before. Should you run into any trouble however, they have a comprehensive blog and a helpful and responsive support centre, both online and with Telephone options.
Benefit to team productivity:
Teamwork can increase your business efficiency. You can:
Set up chat channels to communicate with other team members.

Manage multiple projects simultaneously.

Monitor tasks at a glance.

Track time spent on certain tasks and/or by individual team members.

Manage resources and capacity for workload optimization.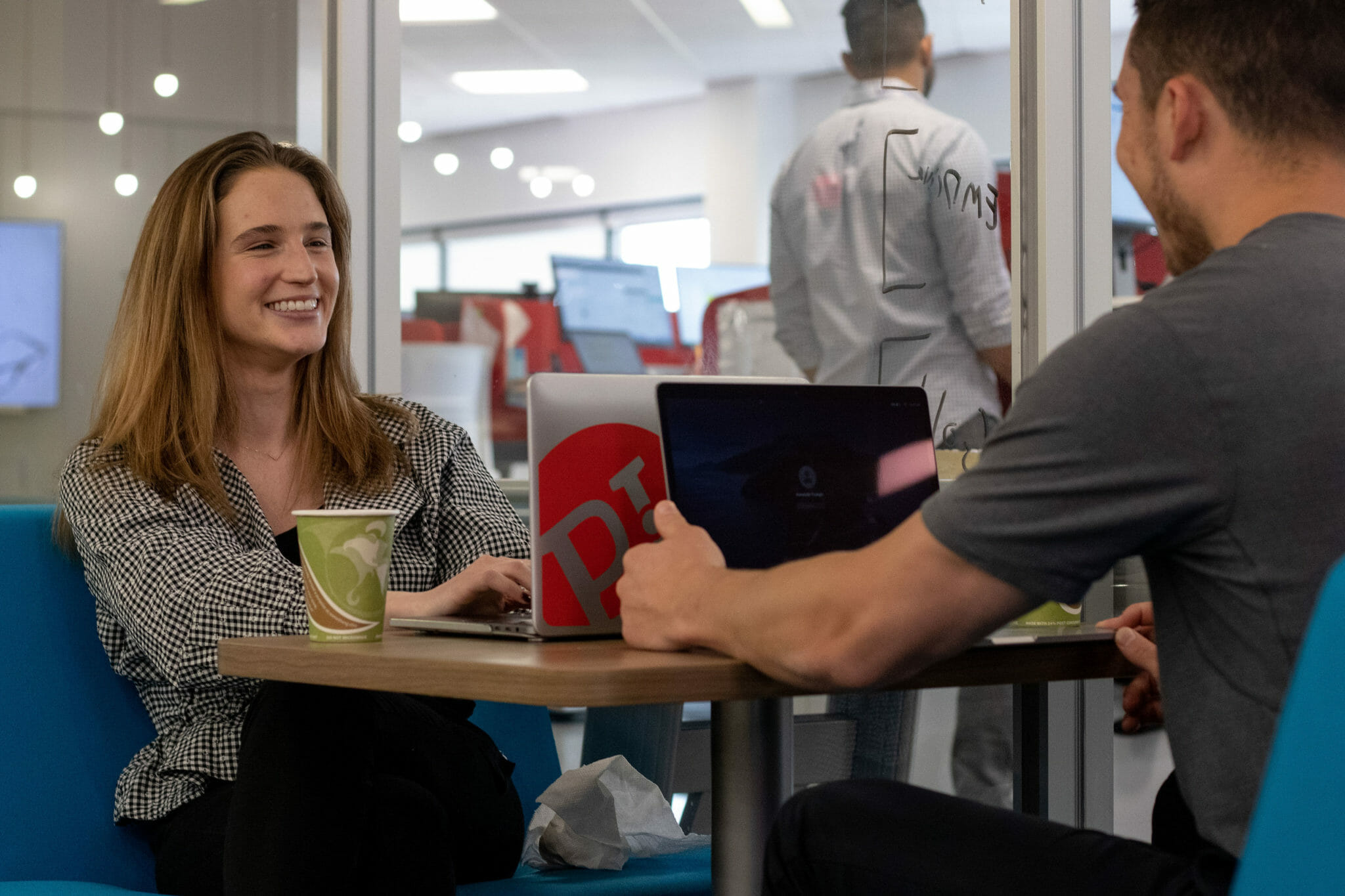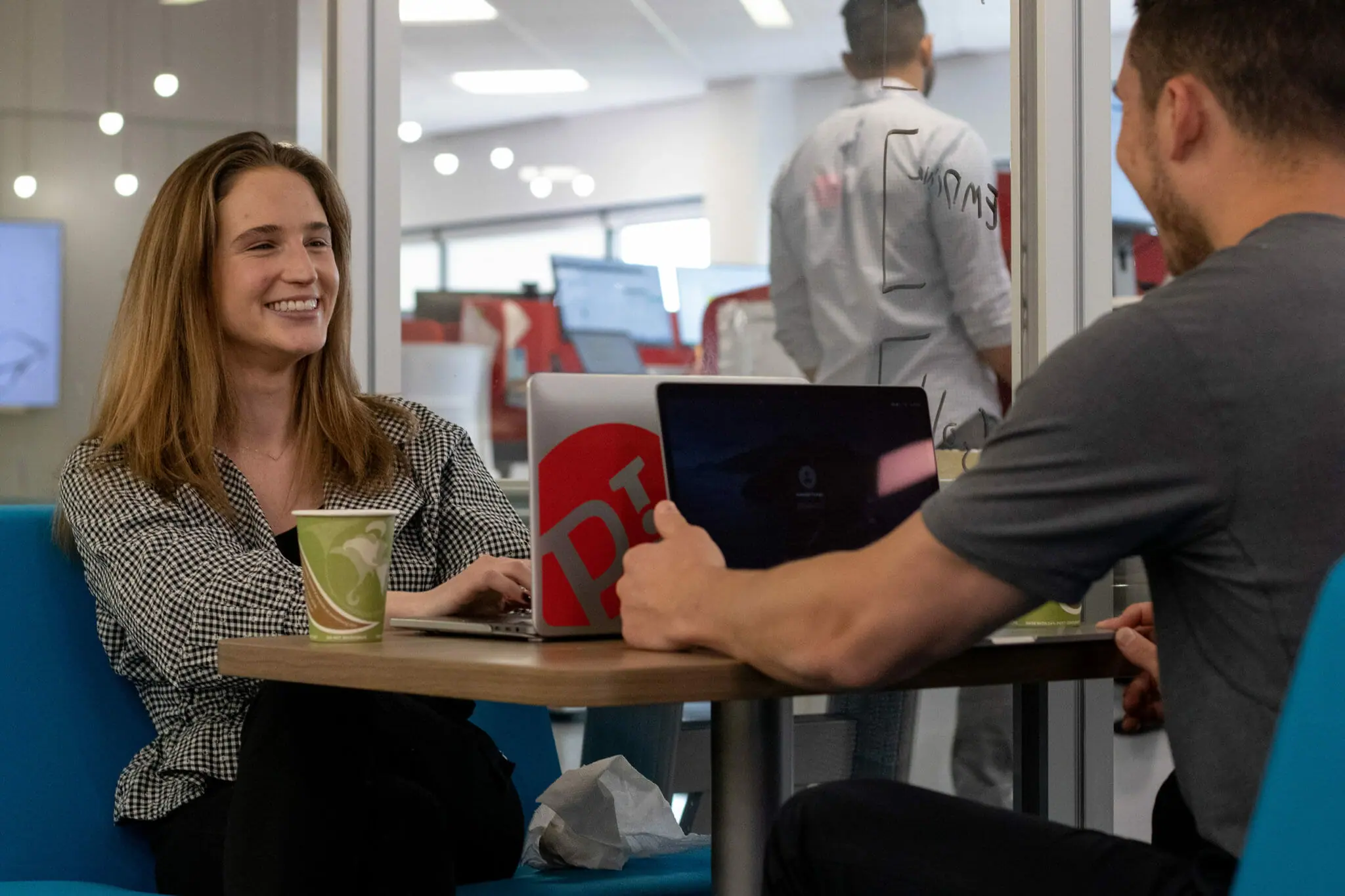 Technology is necessary to support cross-functional and remote teams in increasing efficiency.
As remote work trends continue to rise, it's critical companies begin to adopt technology to support a distributed workforce. 
When building your tech stack, take time to do your research and determine the unique needs of your business. 
Beyond the budget, here are some things to consider:
Ease of use
How quickly do you need your team to adopt a new platform? If you need people to get up and running quickly, time to productivity in software should be a consideration.
Number of users
Some platforms restrict the number of users. For example, many advocate for OneDrive/Office 365 over G Suite. However the more affordable Business plans for Office 365 cap the number of users at 300. If you work in a mid-size organization, factor in user limits.
User needs
How will employees interact with the tool? What "jobs to be done" does the software solve? Even the most thoughtfully designed software can be a waste of time and money if not solving the problem it was meant to solve. 
Security
Do you work with outside agencies, firms, or independent contractors? If so, how will the software allow them to collaborate with your team and access the necessary information while restricting permissions? 
Accessibility
Where will your employees be accessing software from? If your workforce is remote or distributed, cloud-based software may make more sense, as it can be accessed from anywhere. 
These insights will help inform your decision-making process.
Join 10,000 companies solving the most complex people problems with PI.
Hire the right people, inspire their best work, design dream teams, and sustain engagement for the long haul.