What if your perception of HR was having a negative impact on your business? Science tells us it might.
In our research for the 2019 CEO Benchmarking Report, respondents were asked to list three words they'd use to describe their HR department, as well as share their company's Glassdoor rating.
Our science team used natural language processing and word network mapping to examine the underlying relationship between the words the CEOs chose and how employees ranked their organization on Glassdoor.
How you view HR impacts your Glassdoor ratings.
We found a correlation between the number of positive phrases a CEO selected and a higher Glassdoor rating. In other words, favorable impressions of HR tended to result in better Glassdoor ratings for organizations.
Positive perception of HR can lead to better Glassdoor ratings.
We also discovered that the type of positive words used to describe HR impacted Glassdoor ratings.
CEOs whose company Glassdoor rating was more than four stars—which denotes employees fall in the category of "Very Satisfied" with the organization—used words that focus on the intrinsic value HR professionals bring. Their responses included words like excellent, sweet, smart, persistent, amazing, and awesome.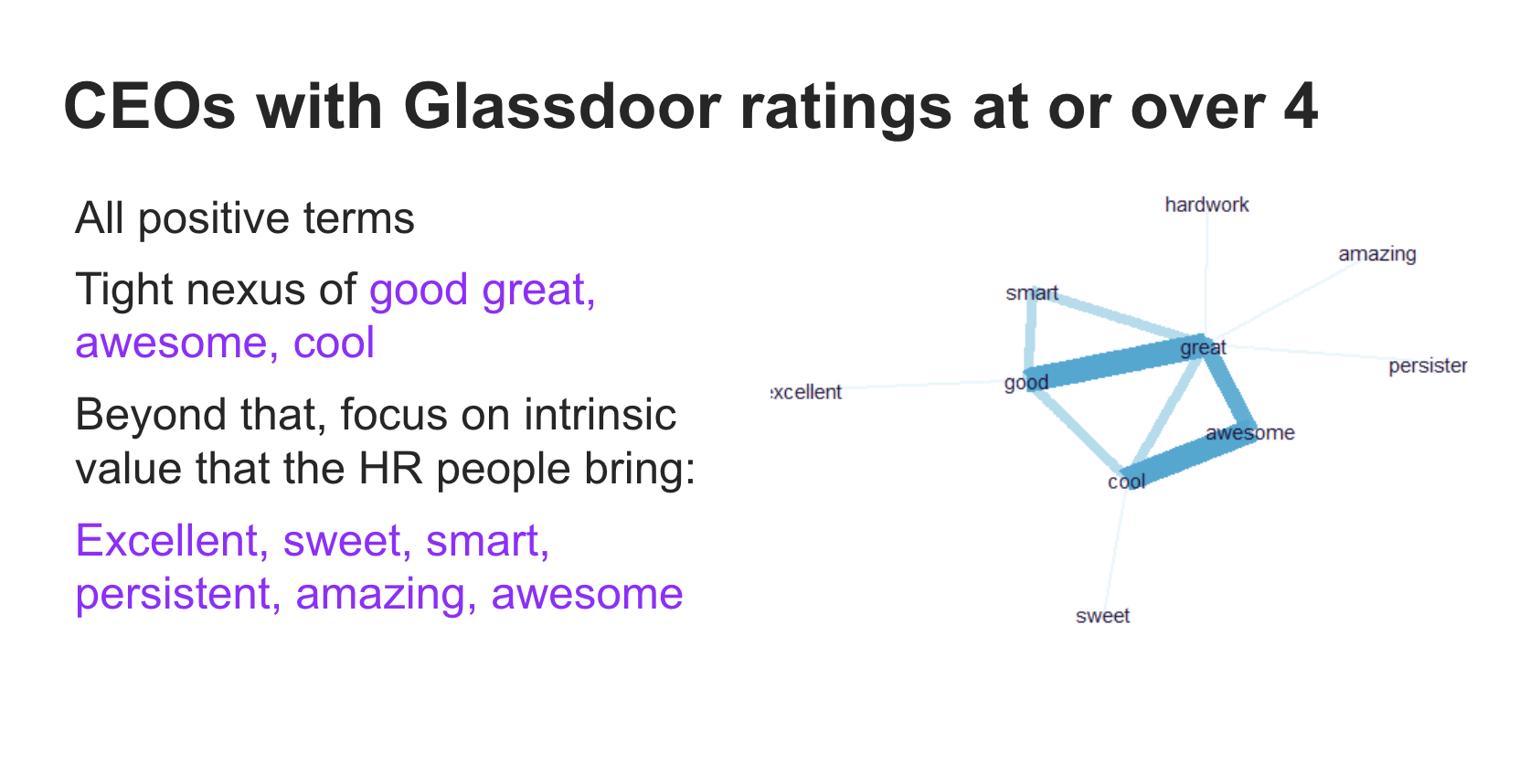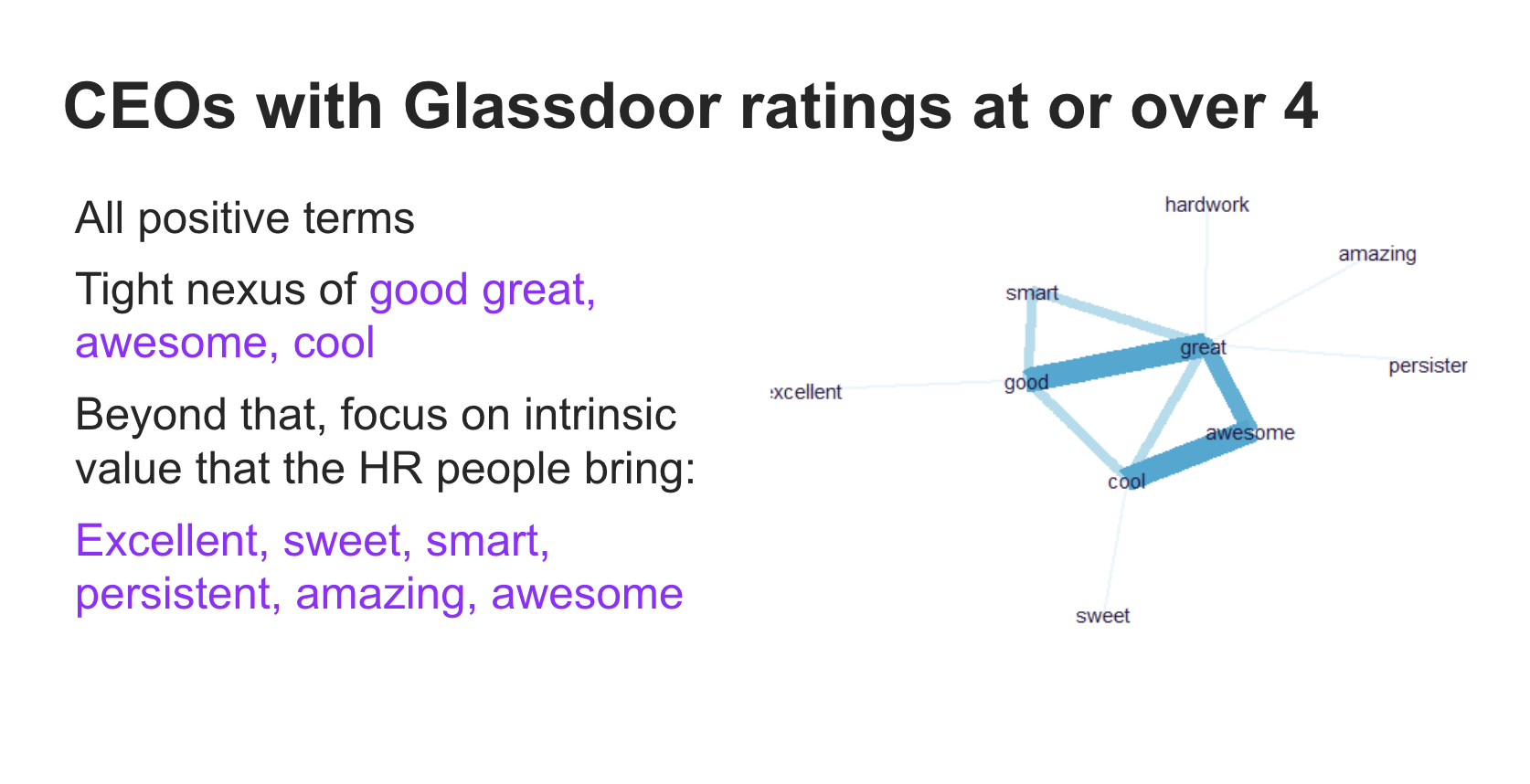 Conversely, CEOs whose company Glassdoor rating was less than two stars—indicating dissatisfaction with the workplace—used words that focused on outcomes. These words were still positive in nature but all focused on what HR achieves or how they contribute to the business—not on the people themselves. Words used included effective, dependable, reliable, helpful, and money.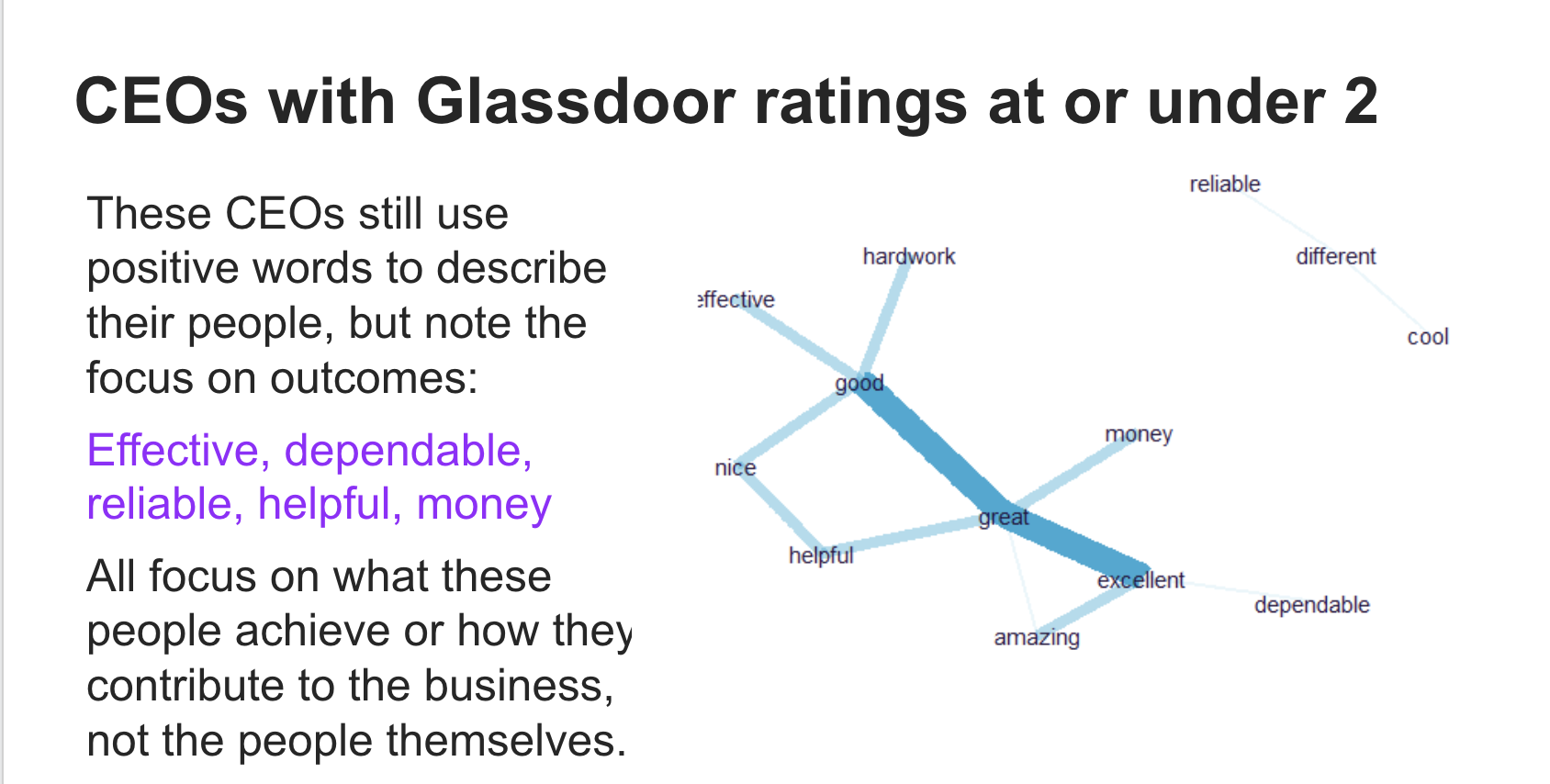 Business leaders who have a personal relationship with their HR team, and consider HR a true business partner, may experience better results.
Why does Glassdoor rating matter?
Glassdoor collects anonymous candidate and employee opinions about your organization. While Glassdoor score alone shouldn't be used to determine overall organizational health and employee engagement, Glassdoor ratings can be a data point that provides insight into the employee experience.
Your employee experience plays an important role in employee engagement. And study after study shows that engaged employees are more productive and more profitable.
Glassdoor also contributes to your employer brand. In a candidate-driven job market, you need every advantage you can get. A good Glassdoor score can help a candidate make the decision to apply for a role—or accept a job offer—at your organization.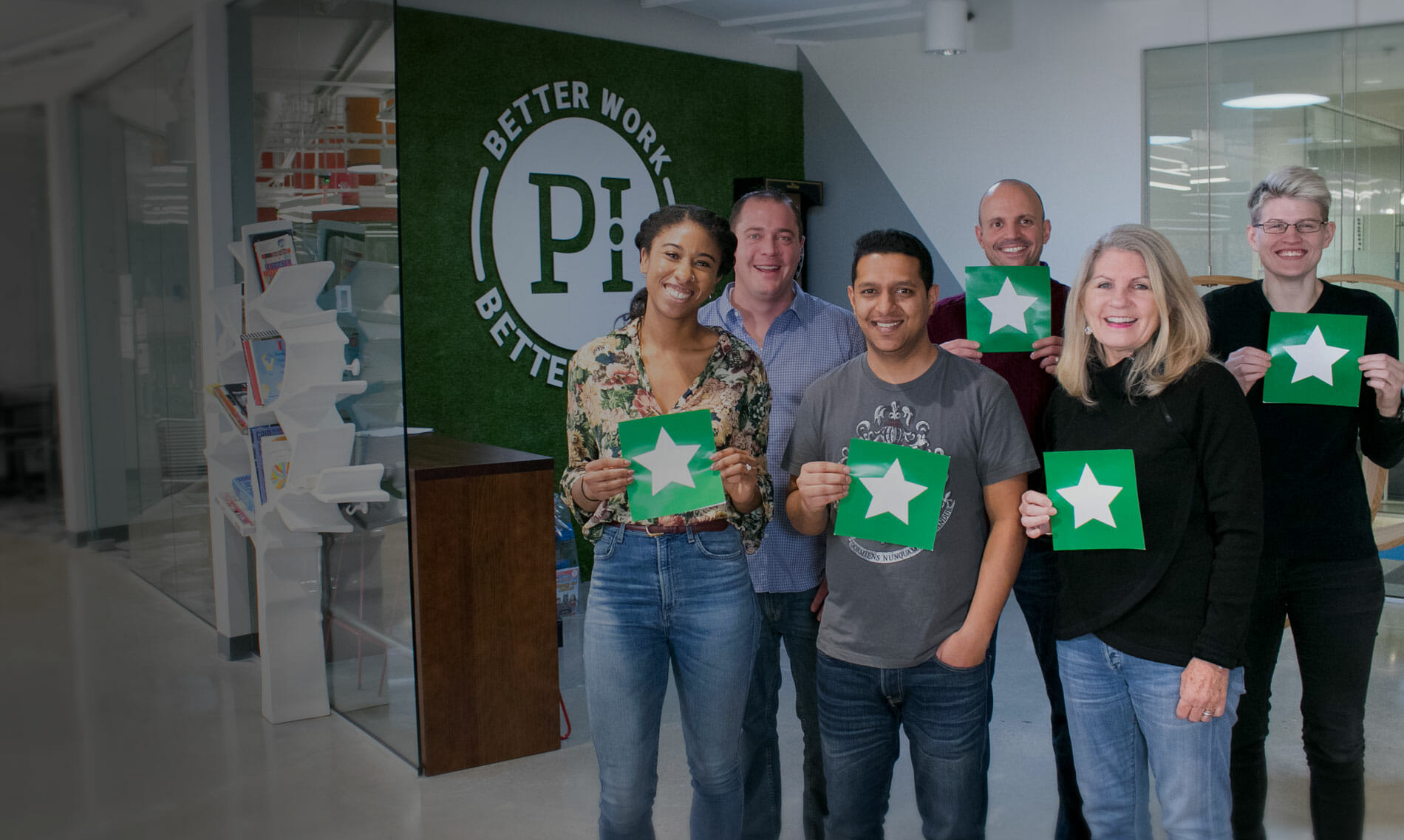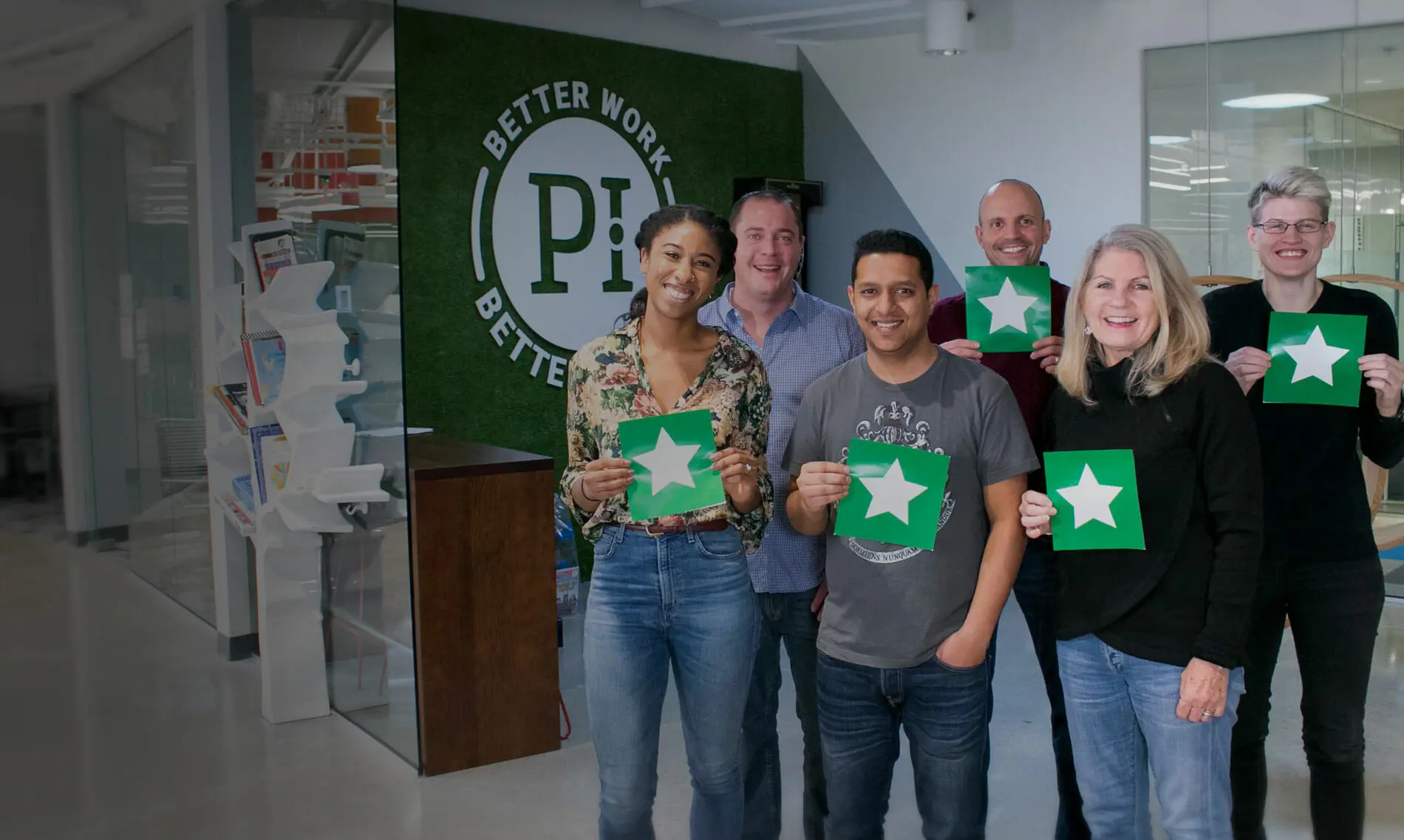 CEOs, you need to leverage your HR team to achieve outsized business results.
Smart business leaders know the key to business success is optimizing talent. That's why one of the top priorities for CEOs in 2019 was talent strategy. Great business strategies don't execute themselves. At the end of the day, it's your people who execute your business strategy.
And while executives must be a part of developing talent strategy—talent strategy is rooted in human resources. If you're not working hand-in-hand with your HR department, your talent optimization will fall short.
It's imperative businesses give HR a seat at the table.
With the C-Suite owning decision making that's based on the people data HR collects and measures, HR clearly needs to be part of the equation.
How are you involving HR in your talent optimization efforts?
Join 10,000 companies solving the most complex people problems with PI.
Hire the right people, inspire their best work, design dream teams, and sustain engagement for the long haul.