Think about the CEO of your company. If you work for a small or family-run business, you may know them well. Even if you don't, you likely have an idea of the pressure they're under each day.
From leader, to spokesperson, to analyst, CEOs can wear many hats. Perhaps most importantly, they're strategists, making critical decisions about the future of the business. With so much on the line—especially in a COVID world—it's easy to see how stress and tension might set in.
What you might not realize is that the bulk of this tension stems not from business decisions or financial ones, but people ones. And here's why:
Executive teams are struggling to get along.
In its 2021 CEO Benchmarking Report, The Predictive Index surveyed 160 CEOs about their top concerns and priorities in a post-COVID remote world. According to the report, 36% of CEOs say the No. 1 source of conflict for their team is interpersonal struggles.
When my team faces conflict, it is most often related to: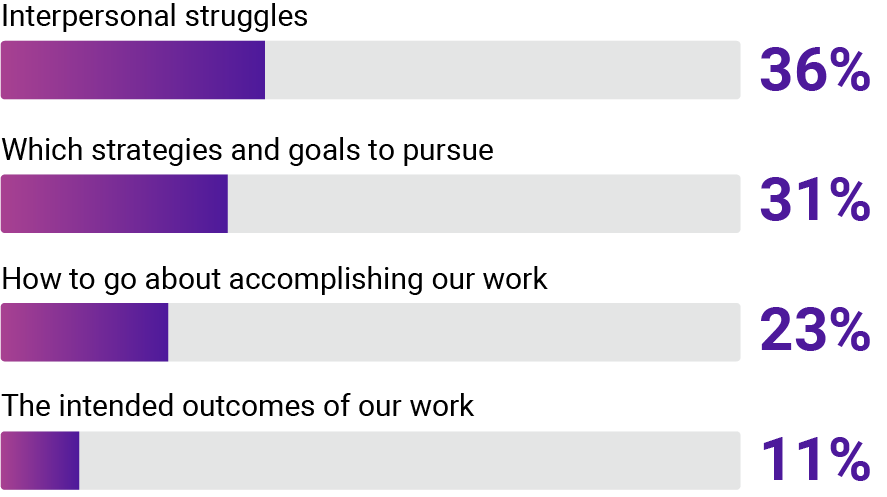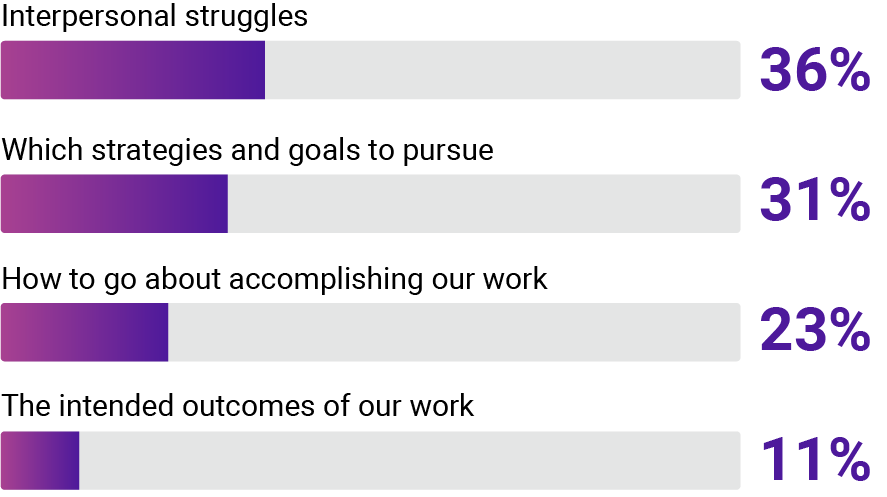 While some CEOs attributed conflict to different opinions on what to do, how to do it, and why, most centered around who. Who's driving projects to completion? Who's being consulted? And who's ultimately accountable for these deliverables?
These questions have only become more critical in a remote world. Teams that performed well in an office setting may be feeling tension over Zoom screens and Slack messages. Without in-person interactions, communication may falter, and emotions can take over. For CEOs concerned about employee productivity, these are tough people issues to contend with.
That's why it's so important that CEOs and other senior leaders understand their people. By taking time to learn how their employees are wired, business leaders can craft cohesive teams—ones where everyone's aligned and working toward a unified goal.
Discover the secret to building cohesive teams.
Conflict can be extremely beneficial—but only when it's healthy. For teams, that means creating an environment of trust, safety, and cohesion. Easier said than done, but there are ways to get started.
Read the full 2021 CEO Benchmarking Report to learn how CEOs are learning from 2020 and tackling the year ahead. Find out what's causing team conflict—and how to turn that conflict into results.