I'll admit I have a soft spot in my heart for college seniors. Every year around this time, graduating students are consumed with what lies beyond.
When I was a senior in college, my dad was my savior and ushered me through the process with kid gloves. He showed me how to reach out with an impressive cover letter and resume, how to conduct myself in an interview, write a follow-up note, and land a job in my field of study.
However, many decades have passed and with them, the education curriculum has changed dramatically. Our world has become increasingly digitized and more competitive. Along the way, we've seen a disconnect grow between the set of skills employers need and want from new college grads, and what these 20-somethings can truly deliver. The student may have the academic knowledge for the position they apply for. But do they have the soft skills necessary to secure the position, and then grow within the organization?
Too often, the gap is widened because employers are overly focused on resume. Consider the behavioral fit a candidate can offer. That means investing in not only in these new grads' potential, but in the long-term growth of the organization.
Join 10,000 companies solving the most complex people problems with PI.
Hire the right people, inspire their best work, design dream teams, and sustain engagement for the long haul.
Humanizing the candidate
One Cengage survey of more than 650 employers and 1,500 students underscored the challenge these candidate shortcomings pose for hiring managers. Employers want job candidates with "uniquely human skills, but finding those candidates isn't easy." Nearly 3 in 4 employers say they have a hard time finding graduates with the soft skills their companies need.
In fact, 54% of employers say that finding students who can communicate effectively in a professional setting is "very" or "somewhat difficult." Similarly, 55% of employers say that students with strong interpersonal skills are equally difficult to find.
The same survey posits that "the rise of automation means job candidates will need uniquely human skills; as jobs become increasingly automated employers are seeking workers with skills that machines can't replace."
Employers say the following human skills are not only in demand, but important to gaining leadership positions at their organizations:
communication skills (77%)
listening skills (75%)
critical-thinking skills (74%)
interpersonal skills (73%)
Blending behavioral data with an educational toolkit
I see this first hand in my career coaching practice with new grads. It seems that many business schools are focused on preparing their students with the necessary technical skills to compete in the ever-changing competitive market. And as a result, less emphasis may be placed on soft skills.
On the flip side, a liberal arts education is thought to broaden knowledge, and cultivate problem solving and critical thinking skills. Consequently, I see two distinct groups:
new business school grads lacking the desired soft skills
liberal arts students who carry some soft skills, but are largely unprepared to sell their transferable skills in an interview setting
Consider also that these new grads grew up in an era of text messaging and ubiquitous social media. Their world has been fully digitized, but not necessarily in a manner that aligns with the communication needs of their potential employers.
Unfortunately, this soft-skills gap often extends the grad's search for that all-important first job: It takes the average college graduate 3-6 months to secure a job after graduation.Perhaps they didn't take advantage of the on-campus career advisors, or they planned to job search when they returned home after graduation. Maybe they aren't sure what field or career to pursue. Whatever the reason, 41% of recent college graduates are underemployed, initially working in jobs that do not require a college degree.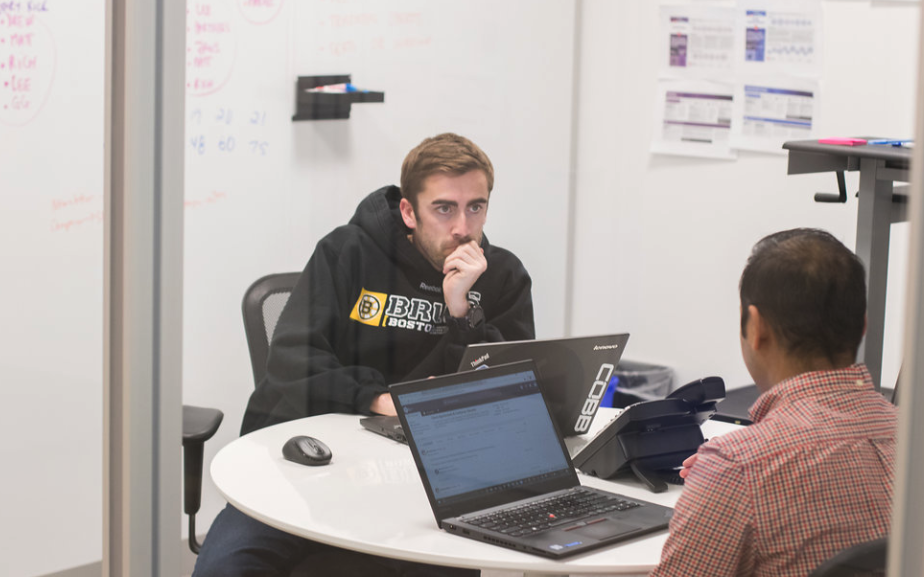 What areas of talent development do new grads need?
We know there are gaps, but where do we begin to address them? Customized soft skills training modules might cover:
Critical thinking
Problem solving
Written communication (company emails and client correspondence)
Public speaking
Interpersonal skills (i.e., meeting etiquette)
Listening
Teamwork
Networking
Collaboration
Confidence Building
A customized soft skills training program will provide major benefits to your company, including:
Attract new grads to your company. Graduating college is a milestone, and next steps can be scary. New grads have just completed 16 years of formal education. A training program customized to your culture eases the transition to the workforce and helps them acclimate. So does finding a role for which they're a good behavioral and cultural fit.
Boost employee engagement. Integrating these new grads into your company culture with dynamic training will foster a sense of belonging to a group; similar to the college class experience they enjoyed for four years.
Set a positive tone for the first 90 days. A positive first quarter of employment for every new employee portends future success. New grad hires need to be taught, guided, developed, and mentored—but also fit their team and role in order to stave off the forces of disengagement.
Improve employee retention. Ongoing training reinforces the value of the employee, keeping them more engaged, active and productive in the company.
Prioritize advancement opportunities. Employees who feel valued by their bosses and peers want to pursue continued advancement within the company.
Employee development as a staple of talent optimization
These five benefits are just the tip of the iceberg. Your company can make an indelible positive impact on these new graduates. Instead of waiting for the perfect candidate, you can extend job offers more readily. Armed with behavioral data, you can shorten the grad's lengthy job search, and train and develop these new employees your way. Over time, your company will be known for its training, career advancement, and most importantly, as a great place to work!
We all know that employee perception and engagement are crucial indicators of long-term success. Your company brand is cast in a positive light.
By closing the softs skills gap with a talent optimized approach for new grads, you will satisfy your company needs, launch new careers, and keep your talent pipeline filled with upcoming graduates whose potential matches that of the culture you've established.
---
Donna Poudrier is a Certified Career Coach working with new grads and executives. She is also a recruiter, public speaking coach, and trainer.