Last month, at the World Championships for Triathlon in Cozumel, Mexico, Alistair Brownlee, two-time Olympic champion, rounded the corner for the last 500 meter sprint to the finish line, neck and neck with South African rival, Henri Schoeman. Less than a hundred meters ahead of him, he could see the leader, his brother Jonny, lurch dramatically to one side, then collapse with heat exhaustion into the arms of a volunteer at the aid station.
As Alistair and Henri raced past Jonny, Alistair threw his arm under his brother's shoulder, hurling profanities at him down the home stretch, dragging his brother towards the blue carpet that marked the finish line. While Henri raced ahead for the win, Alistair literally threw his brother across the finish line, ensuring his second place finish in the overall 2016 world rankings. It might be one of the most dramatic and heart-warming finishes in racing history.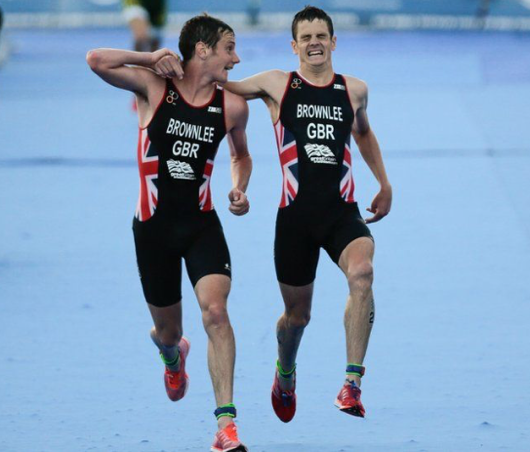 When the Brownlee brothers were interviewed later, Alistair explained the dangers of heat exhaustion, how he's suffered from it, and how "he would have done it for anyone." He also gently chastised his brother for sprinting too early and too hard. Both men were utterly devoid of ego or bluster, quietly supporting each other despite their years of intense rivalry as training partners…and brothers.
How to be a good teammate at work
It made me think, what does it mean to be a great teammate? In the workplace, we assemble teams comprised of people from vastly different backgrounds, compelling them to work together towards a common goal. But even in striving for the golden ring, teammates are often pitted against each other, competing for a share of finite resources, headcount, budget, even their manager's time. We expect perfect teamwork and cooperation even as individuals compete internally as they work towards common objectives.
But then there is Alistair Brownlee, sacrificing the World Championship title to push his brother across the finish line.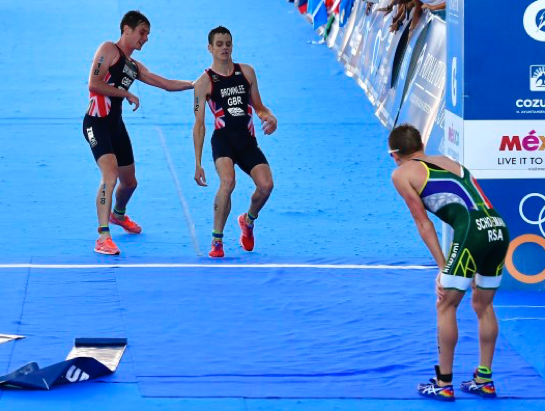 The qualities and characteristics of a great teammate
So what makes for a great teammate? How do we apply Alistair's commitment to Jonny into our work and non-work lives? With Alistair Brownlee front of mind, here are some thoughts.
Confidence
Have confidence in yourself and in your teammates that they bring their best selves to the table every day.
Trust
That you will always cover your teammates' back and that they will be there to cover yours.
Communication
Communication should be honest, even when it is difficult to hear. You should know when you are doing well, you should know when you have let the team down. You should communicate the same to your teammates. Communication is also a two-way street — you must be able to listen to your teammates.
Competitiveness
You are out there to compete every day, for your teammates and with your teammates. Because competing makes everyone better.
Selflessness
The needs of the team will always be more important than the needs of the individual.
Accountability
Each teammate takes responsibility for their actions. When you make a mistake, say "yes, my fault. I'll get it right next time." It's okay to show vulnerability. It's okay to forgive mistakes.
Dependability
You do what you promise. You will be there when you say you will. Your teammates will do the same.
Respect
Everyone is coming to the team from a different place. Respect their positions and background. Learn from your differences.
Great teammates put all of the above traits into action, coordinating with other teammates to make the sum of their individuality greater as a group. According to the work by Salas, Rosen, Burke, & Goodwin on the wisdom of collectives in organizations, some teams are able to "combine the attributes of its members to produce outcomes well beyond the capacity of any one individual member", because they learn to coordinate their actions and communicate effectively. A great teammate has a preference for working with others and a "propensity to coordinate, evaluate and use the [skills] of fellow teammates." (Driskell & Salas, "Collective behavior and team performance")
When we face our daily challenges as teammates like the Brownlee brothers, working and competing honestly, confidently, and selflessly every day, we move our teams towards our goals faster. We would be great teammates. Well done, boys.