If you need to hire a loan officer you're not alone. The position is in demand and companies are fighting one another to attract the best talent. According to the BLS, the need for these financial professionals is on the rise, with 11 percent job growth expected between now and 2026.
Algorithms can determine any loan applicant's suitability, but loan officers provide the human touch that many customers crave. Loan officers who can provide great customer service—and who embrace the technology your borrowers use—are essential to your team.
Because it has one foot in sales, this is a profession that attracts ambitious personality types. But, ambition alone doesn't mean someone is a great candidate for the role.
You need to hire the right people to meet your revenue goals. But, the attributes that make someone thrive as a loan officer aren't always immediately evident in resumes. And during interviews, more dominant candidates can appear to be the most attractive option when they could be lacking critical skills or behavioral traits.
We often rely on our gut reactions and lean very heavily on references when hiring for such critical, revenue-generating roles.
Here are some of the challenges with this:
Your gut isn't always 100 percent reliable:

An interview isn't a strong predictor of performance for this role. Candidates with strong personalities will edge out those who are less dynamic—but they might lack other critical traits they need to succeed as a loan officer.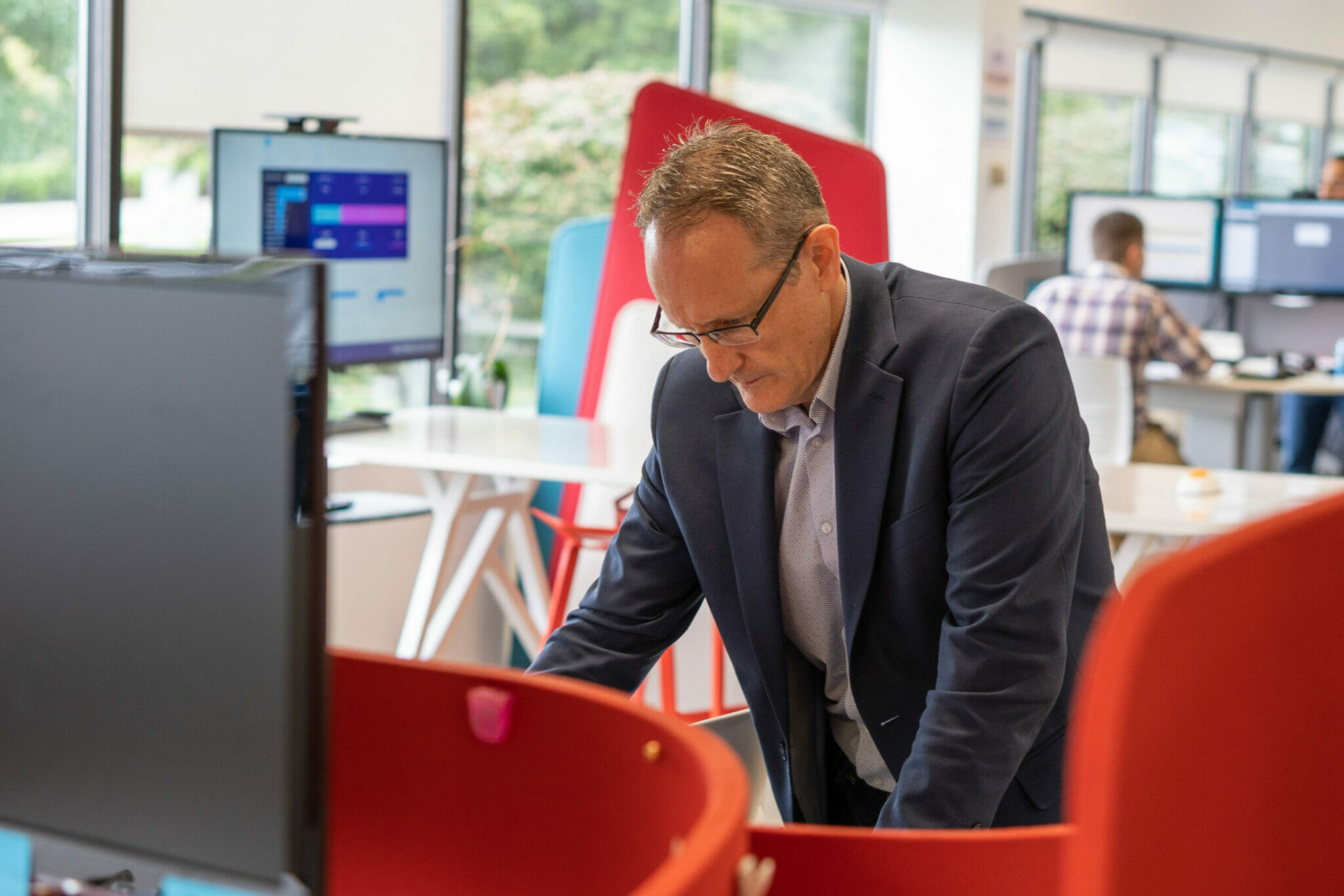 References can be deceiving:

Former co-workers don't always have a clear sense of the candidate's competence for the role. Even if you're getting a reference from a former manager, people have a hard time speaking ill of others—you may not get the truth.
So how can you hire a loan officer who will be a great fit for the job? Here are four places to start:
1. Define the skills you want the loan officer to have.
The ideal candidate for this job is someone with intuitive people skills who is also good with numbers. Someone amiable, but also highly detail-oriented and analytical. The right fit is comfortable working under deadlines—and also comfortable communicating with borrowers via social media, email, and text.
A loan officer's tasks include advising borrowers on loan options, guiding clients through the application process, analyzing applications to determine creditworthiness, and generating new business. Candidates must be able to:
Speak confidently on the phone and in-person

Analyze loan applicants' financial status

Determine creditworthiness and appropriate loan options

Answer questions via social media, email, and text

Explain complex topics clearly

Follow set processes

Calculate payment schedules
Decide what skills are essential and write a job description that highlights those. Also, decide whether or not you're willing to help a high-potential entry-level candidate become licensed. If not, only look for candidates who have a Mortgage Loan Originator license.
2. Identify the critical behavioral traits you need.
You need someone who's able to think analytically and someone who's able to calculate payment schedules. In addition to those skills, you also need to look for candidates with certain behavioral traits that will set them up for success.
Most teams look for:
Organization

Ambition

Collaboration

Extraversion

Precision

Confidence
At The Predictive Index®, we recommend that hiring managers create a Job Target to isolate the behavioral traits and cognitive ability someone needs to succeed in the role. You can then assess your prospective candidates against this target.
3. Use smarter hiring processes to find candidates.
Once you've done the work of defining what a loan officer looks like at your organization, use science to find your ideal candidate. Simply ask all candidates to take a behavioral assessment and a cognitive assessment to see how well they stack up to your Job Target.
Our scientifically-validated PI Behavioral Assessment™ pinpoints people's innate behavioral drives. After someone completes the assessment, we assign them a Reference Profile. There are 17 major Reference Profiles. These help us understand the individual and help ensure job fit.
Our PI Cognitive Assessment™ measures a person's ability to learn new information. Cognitive fit is a great predictor of on-the-job success, so it's essential that you hire someone whose cognitive score falls within the range you set when you created your Job Target. If you were to go with your gut and hire someone with a too-low cognitive score, there's a good chance that person would end up being miserable in the role because they'd be struggling to succeed.
Once you compare your candidates' Reference Profiles to your Job Target, you'll have the information you need to create your interview shortlist.
Not only does smart hiring help you chop your stack of resumes down, but it also gives you a pool of candidates that are likely to be a great fit for the open role.
4. Address (and remove) hiring biases.
There are two key sets of traits that make loan officers especially effective: interpersonal skills, which can be more easily spotted in an interview, and analytical skills, which cannot.
Recent research has shown that no matter how impartial managers try to be, biases always creep into our hiring decisions. The best way to ensure you're not falling prey to subjective bias is to increase the role of objective science in your decision-making. Rather than move a candidate forward because you attended the same college or because you got on well during the interview, using data means you focus on better predictors of on-the-job success like cognitive ability.
3 most common Reference Profiles for BDRs
Over the years, employers have created approximately one million Job Targets in our system. When we look at the Job Targets 922 different people set for the loan officer role, we see the same three Reference Profiles again and again.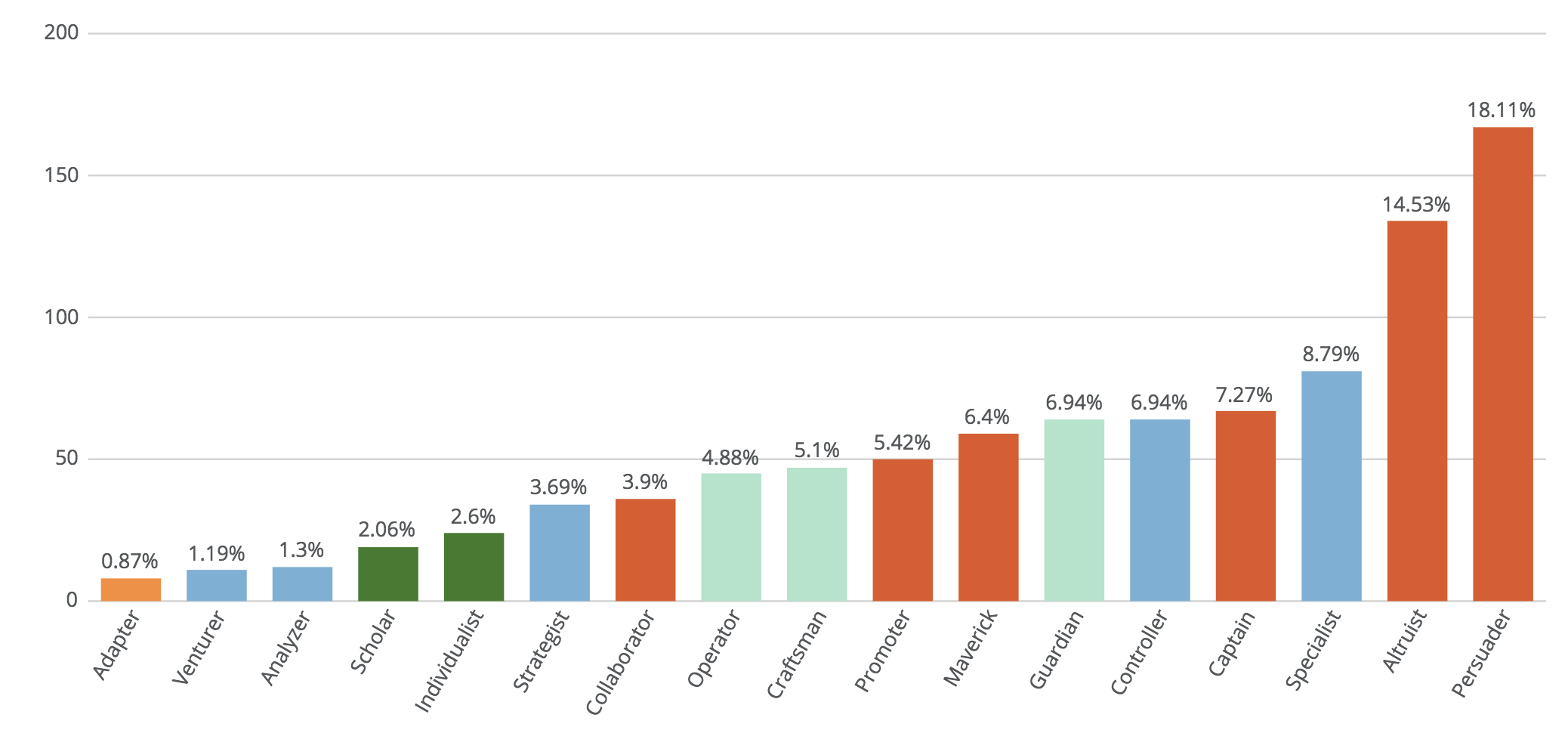 Here are the three most common Reference Profiles managers look for when hiring loan officers:
1. Persuader
Persuaders are socially-poised and extraverted, which means customers will be naturally drawn to them—that helps them generate new business for the company. These individuals are natural salespeople as they are both persuasive and empathetic. In addition to their high confidence, Persuaders move at a fast-pace, which is perfect for this deadline-driven industry. As they're results-oriented, they'll be keen to find the right loan option and to get paperwork finalized to close deals.
2. Altruist
Altruists are well-suited to the loan officer role. We think this is because Altruists manage to be both intuitive and supportive, but still have a laser-focused attention to detail in their work. They are highly-organized and very precise, which helps them to thrive in the fast-paced, data-driven environment of banking and finance. Traits like intuition and interpersonal strengths are what make them such standouts in this role. Finally, helping people is a powerful motivator for Altruists, which makes this career choice personally-rewarding and leads to higher engagement—and discretionary effort.
3. Specialist
Specialists are all about the fine print. Their attention to numbers and details means that nothing will slip by these loan officers. They make thorough, factual decisions and are also comfortable working at a fast pace and processing data quickly. They love the variety of moving rapidly from one case to another. The more objective and rule-based your loan environment is, the more comfortable a Specialist will be. This profile is a bit less interested in the "people" part of the job, as they are more reserved and heads-down—but they are supportive team players and excellent at following established guidelines. Over time, they will become valuable subject matter experts and resources.
How to attract top-performing loan officers
Here are some tips for attracting Persuaders, Altruists, and Specialists:
Use the right channels.
Social Reference Profiles, like Persuaders and Altruists, tend to find work through talking and networking. Altruists love details and are also likely to come to your website to research openings. (Altruists care about your brand and corporate accountability, so be sure that's up to snuff and well-represented on your site, too.)
Analytic Reference Profiles like Specialists prefer to look for jobs on industry-specific boards.
Craft the right job listings.
Do you need a loan officer who can quickly sort through a large volume of applicants, or one who has the sales know-how to find and attract new business?
Be specific—and tailor your copy to attract the top three Reference Profiles.
Persuaders like freedom from routine so be sure your job listing emphasizes all the various job duties. Altruists want to help people so be sure to let them know they'll be doing that on a daily basis. Specialists want to feel that there's a secure structure in place where they can learn and thrive. All three Reference Profiles will be looking for a fast-paced environment with opportunity for reward.
Here are some bullet points you can copy and paste:
Key responsibilities:
Establish and maintain business relationships with local referral networks

Interview and pre-qualify borrowers to determine loan needs

Advise borrowers about products, programs, terms, and pricing

Ensure timely and accurate mortgage application documents

Manage pipeline and expected closing dates

Communicate with borrowers regularly to help guide them throughout the process

Ensure compliance with banking laws and regulations

Meet monthly, quarterly, and annual sales goals and objectives
Desired skills and experience:
Bachelor's degree or equivalent experience in residential mortgage sales

Two plus years of residential mortgage sales experience

Minimum documented loan volume of $10 million over the past 12 months

Excellent and proven sales skills

Superior verbal and written communication skills

Able to juggle multiple tasks with competing deadlines

Comfortable using computers and social media

Must hold active Mortgage Loan Originator License

Match candidate and organizational needs.
It's important to determine if candidates will be a good fit for your organization over time. If you're bringing in young talent to be trained as loan officers, what will their route be to promotion? How will you develop them over time? Will the skills you are hiring for today still match your needs if they are later promoted to branch manager? Altruists, for example, are supportive and nurturing—and also highly skilled at building team cohesion. They make excellent managers or mentors. Specialists often like to become senior-level subject matter experts. Do give some thought to your talent strategy over the long-term.
Don't rest on your laurels.
Be sure you give your newly-hired loan officers the tools they need to be successful. Help them understand their Reference Profile, and how they can work most successfully with co-workers and their direct manager. Workshops and training are essential to helping your team stay sharp and ever-improving.
Hiring isn't something where you can cross your fingers and hope for the best.
Try our free Job Benchmarking Calculator to learn the most common Reference Profiles for any position in your company.
Join 10,000 companies solving the most complex people problems with PI.
Hire the right people, inspire their best work, design dream teams, and sustain engagement for the long haul.