Are you monitoring employee engagement regularly? Yes? Yes!
Taking the pulse of your staff is arguably the most important "easy win" you can achieve. Unfortunately, a jarring number of organizations don't do it, and too often that means they can't solve disengagement issues until it's too late.
Of course, conducting an employee engagement survey is just step one. Next comes the hard part: designing an action plan.
Applying employee feedback can be alternately challenging, confusing, and gratifying. You might have contradictory feedback, or overlapping results. It's tough to know where to begin, and what feedback to prioritize.
Here's the good news: By taking any action on employee engagement survey results, you're showing your commitment to your people. Now what exactly might that action look like? Let's dive into those details in this post.
Here's what we'll cover:
Why conduct employee engagement surveys?
Analyzing survey results effectively
Creating an action plan based on employee engagement survey results
Using The Predictive Index to measure employee engagement
Join 10,000 companies solving the most complex people problems with PI.
Hire the right people, inspire their best work, design dream teams, and sustain engagement for the long haul.
Why conduct employee engagement surveys?
Need a starting point for your action plan? Remind yourself what you hoped to gain from the engagement survey in the first place.
Organizations conduct engagement surveys for many reasons, and in various fashions. The stakes might seem different for smaller companies, or for those with flatter organizational structures. But remember that the feedback you collect is not an indictment of any individual or group. Rather, you should view it as invaluable perspective—this is firsthand insight from the people who drive your business.
Think back to the genesis of your survey. Did you hope to identify instances of poor manager fit? Were you looking to uncover inefficiencies? Maybe you were simply trying to sniff out disengagement before it took hold of employee morale, and led to attrition.
These should be key factors dictating the questions contained in your survey. The survey should also be anonymous, to ensure honest feedback without fear of consequence or reprimand. Perhaps most critically, you shouldn't be asking about things you're unwilling or unable to address.
The "why" often comes down to a simple maxim: You want to continually improve the employee experience. Whether that improvement is about equity, professional development, access to more resources, or all of the above, keep the end goal in perspective. By doing so, you'll be able to better understand how you can apply the survey's findings to better your organizational culture and outcomes.
Analyzing survey employee survey results effectively
There are plenty of good employee engagement tools out there. Again, simply gathering data is a win unto itself. Your company should choose software that suits its budget, processes, and priorities.
At The Predictive Index, we gather employee engagement with our own scientifically validated software—PI Diagnose. The PI Employee Experience Survey™ is predicated on a simple framework. We gather employee feedback on many topics, but aim to analyze and solve for employee disengagement through the four factors that drive disengagement:
Job
Manager
People
Organization
All survey questions apply to one (or more) of four distinct engagement scores. As a result, HR professionals, management, and other leadership can pinpoint where any employee disengagement is rooted.
Your company's employee engagement survey need not use the same metrics, but if you want to prioritize employee retention, it's imperative you understand why and how your employees might be disengaged. Employee performance is not always directly correlated with employee satisfaction. Disengaged staff might not be underperforming, but you can bet they can trace their concerns directly to one of these four forces.
Once you have data in hand, here's how to take swift and lasting action:
Review the results.
Whether you score engagement according to these or other categories, it's important your review process is guided by clear benchmarks. Ask yourself:
What do we consider a good engagement score?
What's a good response rate?
Are we comparing these results with other data, like pulse surveys?
Are we concerned with year-over-year changes in the data? Quarter-to-quarter?
Where are we seeing discrepancies, or potential anomalies?
Your survey benchmarks can change, just as the survey questions may change, or employee demographics may shift. As you review your results, try to simplify your findings and analysis. Decide which data points are most important to your company culture and evolution before you review the findings, and then let the results in those areas guide your primary action steps.
Share the results with your employees.
Even if your survey and review processes are works in progress, you can gain an easy win with staff: Share your results.
Transparency goes a long way toward fostering organizational trust. On the flip side, if you solicit feedback from your employees, but never communicate what you're doing with that feedback, you'll erode trust even quicker than you built it.
There's a key distinction here: You don't need to announce your plans for addressing the survey findings when you share them. Sharing the results does not mean immediately acting upon them—in fact, doing so without proper analysis and context would be a disservice to your employees.
Rather, by presenting high-level findings, you can assure people that plans to address them are in motion. There's no right or wrong way to do this, really. You can create a pie chart for an all-company meeting; you can have one of your executives record a video highlighting key takeaways. Or you can send a simple bulleted email.
You don't get points for style here—just credibility. Prioritize sharing your results, and assure your employees that you will take appropriate action with time, resources, and planning.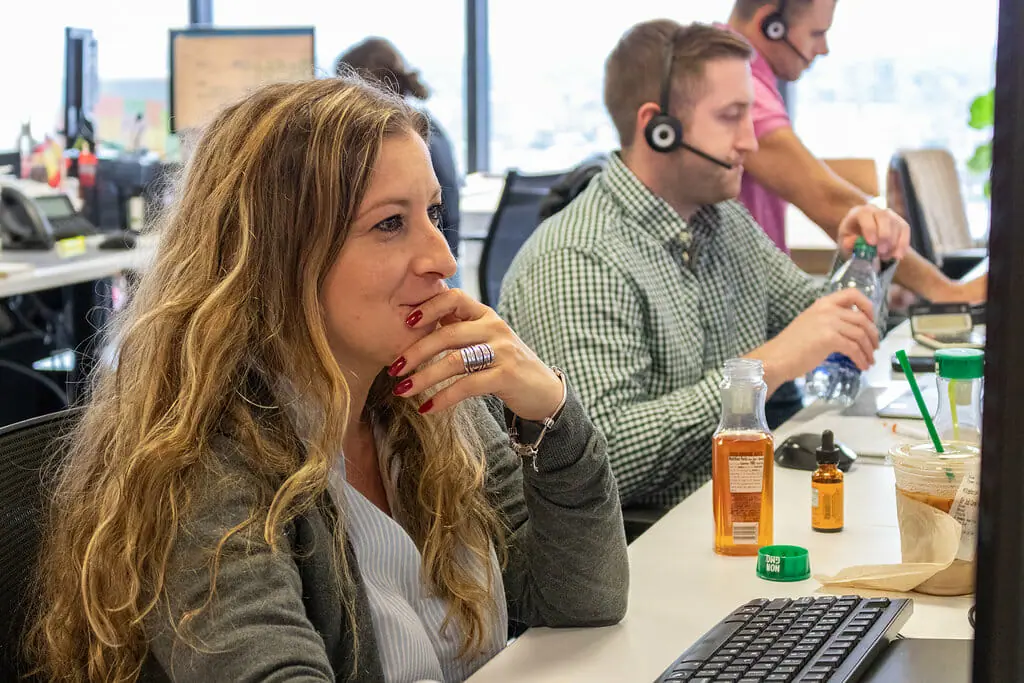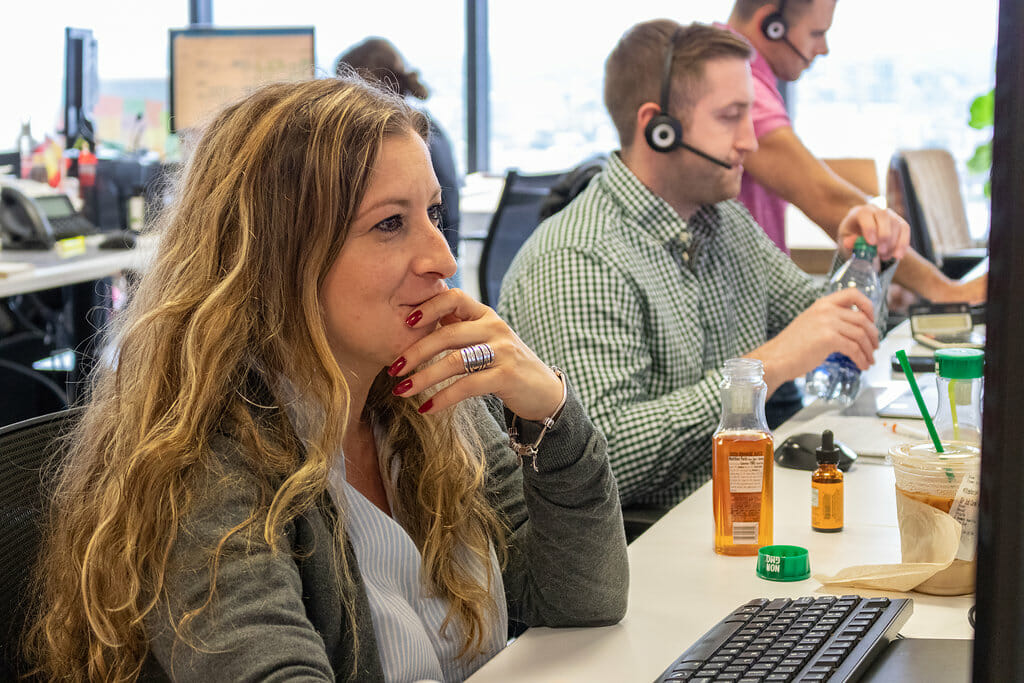 Creating an action plan based on employee engagement survey results
Your engagement survey results might at first feel overwhelming. There's a ton to absorb, from all corners of the business, with all sorts of ramifications. Where do you begin?
Be realistic as you devise your response. You won't be able to solve every engagement issue your survey results uncover. So don't set yourself up for failure by assuming you can. Instead, revisit the priorities you established at the outset of the process:
Why did we conduct this survey?
Which aspects of our employee experience matter most?
Where does disengagement threaten retention, or other key business results?
Look for themes in your survey data. (Employee engagement software helps facilitate this process.) Are disengaged employees frequently expressing discontent with their direct managers? Or are the issues more company-wide in nature? Is negative feedback related to systems and processes, or more about a lack of communication? Perhaps you see recurring concerns about leadership, or the company's vision.
Whatever the case, don't bite off more than you can chew. Identify priorities that tie back to your initial goals for the employee engagement survey, and consider what can be done to actually enact change. For example, your quarterly findings might result in three low-stakes but clear action steps. You can commit to:
Establish an internal site page for company-wide announcements.
Organize employee-led focus groups to dig into specific issues further.
Require managers to share and outline professional development plans not only with direct reports, but their managers as well.
You're not promising to overhaul culture overnight. But with these specific, attainable steps, you are signaling to employees that you hear them, and you care enough about the engagement survey results to take immediate (if modest) action. That still matters.
Using The Predictive Index to measure employee engagement
Engagement survey data should be taken seriously, regardless of sample size or whether it's based on misguided employee perceptions. If your survey data reveals many people feel pressure to work extra hours, consider why that's the case.
If you actually expect employees to put in 12-hour days consistently, that's one thing. But if that's more of an unspoken cultural norm, you don't necessarily need new quarterly initiatives. You can take swift action to address it. Maybe you need to codify working expectations. Or perhaps you can revise job descriptions so they focus more on outcomes, rather than hours on the clock.
Whatever the case, PI Diagnose can help craft specific guidance for HR, managers, leadership, or whoever else is best positioned to respond.
Employee engagement issues are almost always rooted in misalignment. Whether that misalignment is with the team, the organization, the manager, or the job itself, Diagnose creates a custom action plan that helps light the path forward.
Because disengagement isn't irreversible. But unless you know where it's rooted, it usually ends in turnover. So identify its root, and address it with the end goal of having more happy, engaged employees. Your business will be better for it.