Dream teams don't happen by accident—they're built intentionally, by design. Learn what it takes to build these teams from someone who's no stranger to leading them: Katie Sowers.
We're excited to announce that Sowers will be kicking off the PI Dream Teams Summit on January 12, 2021. Let's take a quick look at Sowers, her background, and the world-class insights we can learn from her.
Who is Katie Sowers?
Katie Sowers is a professional NFL coach. Most recently, she served as offensive assistant coach for the San Francisco 49ers. 
Under Sowers' leadership, the 49ers' offense propelled the organization to its first NFC championship win since 2012. Her efforts culminated in an appearance at Super Bowl LIV, making Sowers the first female and openly gay coach in Super Bowl history.
Sowers is no stranger to breaking ground. In 2017, she became just the second woman to coach full time in the NFL, following Kathryn Smith of the Buffalo Bills.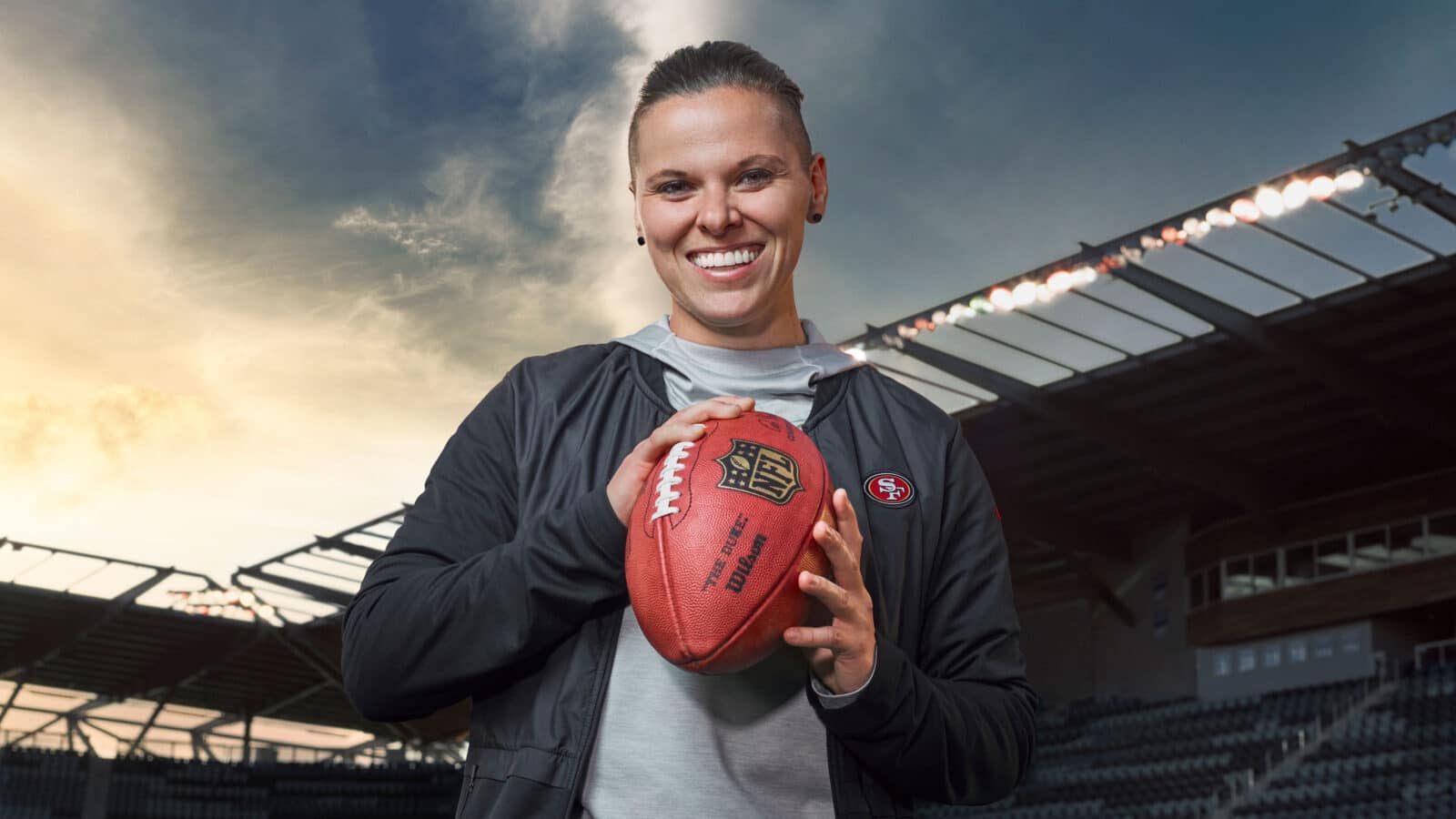 What great leadership looks like to Sowers
Beyond her pioneer status, Sowers is first and foremost a leader. An NFL team doesn't reach the Super Bowl without a strong vision—and a leadership strategy to see that vision though.
In a 2019 interview, Sowers described what great leadership looks like: "Football is the one sport where you have so many different types of people that have to come together to do their 1/11th to make the team work."
She continued, "There are so many different ways to win a football game—there's not one blueprint. But in my opinion, it's who can get everybody in your organization, in your team, moving in the same direction, towards the same goal."
This, in essence, is what talent optimization is all about. When everyone on a team understands their role and feels equipped for the work ahead, it gives the whole team direction. This requires not just great leadership, but self-awareness at an individual level.
What to expect at the PI Dream Teams Summit
The PI Dream Teams Summit will explore how to build great teams, no matter what 2021 holds.
2020 hasn't been easy for anyone—from athletes on the field to families working from home. Expect Sowers to delve into these issues in her keynote address, sharing insights she's learned as both a coach and a trailblazer.
And that's just to start! From there, PI's CEO Mike Zani will introduce the latest innovation in talent optimization. We'll also be hosting a series of breakout sessions, each led by a PI expert.
From team-building to talent strategy, learn how to tackle your most audacious 2021 goals with confidence.
Register now, and see the future first-hand.
Ready to hear from an NFL icon? The PI Dream Teams Summit is set for January 12, 2021, just a few weeks away. Register now so you can secure your seat.
The latest in talent optimization is here—and we can't wait to show you.