You already know that OPTIMA21 is a can't-miss event, thanks to keynotes from Baratunde Thurston and Patrick Lencioni, a pair of award-winning authors and leading voices in contemporary culture and business, respectively.
But that's just the tip of the talent optimization iceberg.
This year's virtual event, happening on May 12, ups the ante with Dara Treseder, SVP & Head of Global Marketing and Communications at Peloton. Yes, that Peloton—the one revolutionizing fitness for remote workers and their families since the pandemic put a premium on home gyms.
Dara brings a rare combination of resume and realness to all her engagements, and her session, Being Yourself: Leadership when Life and Business Collide, strikes that same timely chord. She cut her professional teeth in Silicon Valley, and was recognized as one of 2020's most influential CMOs.
She also reflects the evolution of talent optimization in 2021, when empathy and empowerment are essential leadership skills.
Team builder, tech pioneer, and much more
Dara Treseder's list of accomplishments can't be summed up in a single blog post, but here's an attempt to capture some of the most recent highlights:
In 2020, Dara was recognized as one of the 25 Most Innovative CMOs in the world by Business Insider.
In 2019, she was named a CMO to Watch by Business Insider and inducted into the Advertising Hall of Achievement, the premier industry recognition for leaders under 40.
In 2018, she was recognized by Forbes as a "CMO Next"—one of the 50 Marketing Chiefs Redefining the Role and Shaping the Future.
Dara was also recognized in 2018 by AdAge as one of the "Women to Watch."
In 2017, she was recognized by Inc. Magazine as one of the "30 Inspirational Women to Watch in Tech."
Born in Nigeria, Dara attended boarding school in the U.K. and moved to the U.S. to study at Harvard, and later Stanford. She began smashing glass ceilings the moment she emerged in the professional world. She also serves on the board of the Mobile Marketing Association, and is a champion of women's and public health issues.
Being a leader is about being human.
The 2021 State of Talent Optimization Report reiterated much of what Dara Treseder has already been putting down, both through her speaking engagements and her day-to-day work:
Companies who focused on their people during the worst of the pandemic generally emerged better for it.
She may not need survey data from 500+ executives to do it, but you can count on Dara driving home that same point at OPTIMA21. We need authentic leaders now more than ever, with self-awareness arguably the most important soft skill people can possess. This is especially true in today's world, as the line continues to blur between work and home.
Dara embodies that mindset of awareness and authenticity. Her story is one of perseverance, drive, and empowerment, and her keynote is sure to enlighten us all even further.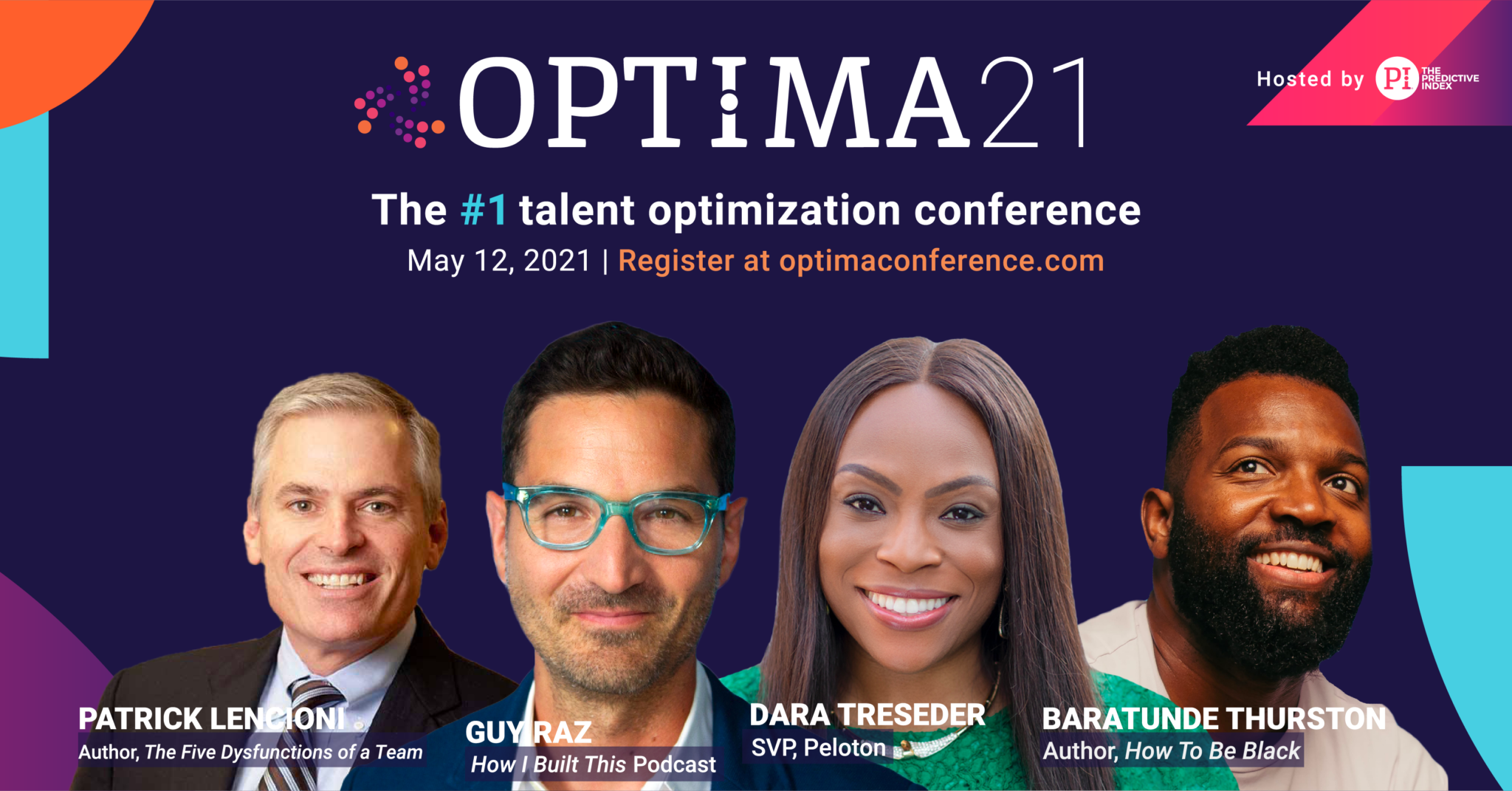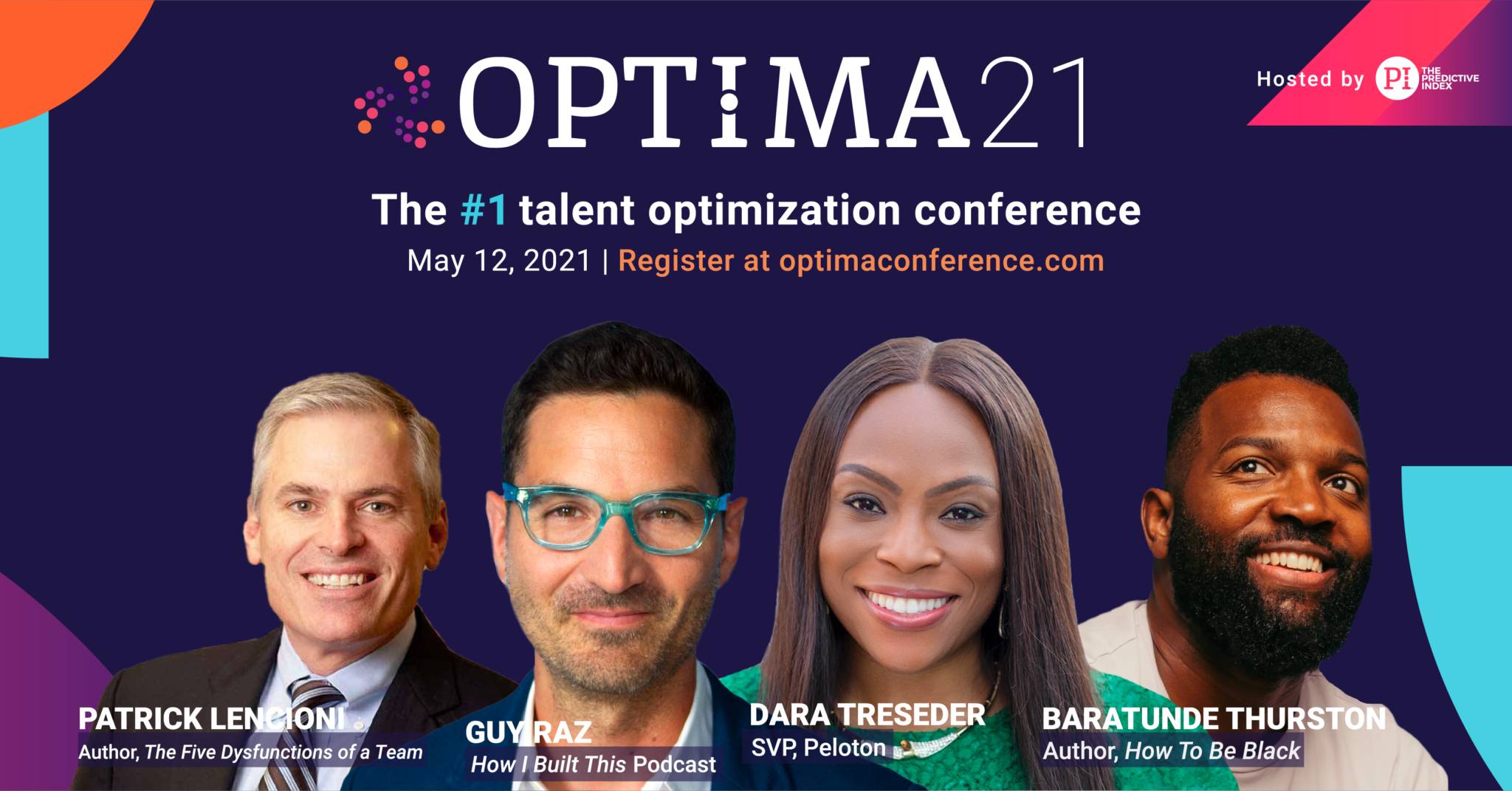 OPTIMA21's power-packed stage goes on and on.
In addition to Treseder, Lencioni, and Thurston, you'll hear from Guy Raz, host of the NPR podcast How I Built This.
Beyond the main stage, there will be plenty of pioneering practitioners of the talent optimization discipline. PI CEO Mike Zani, PI's SVP of Product Alisa Sheyn, and the "Godfather of Talent Optimization" himself, Matt Poepsel, PhD, will join the likes of Dawn Sharifan, VP of People at Slack, and Tami Erwin, CEO of Verizon Business, among many others.
From team building and talent design, to everything hiring and engagement, the premier talent optimization event promises to keep all angles covered. Whether you're a business leader who's been at these practices for years, or someone who's just looking to get started, you won't want to miss it.
Join 10,000 companies solving the most complex people problems with PI.
Hire the right people, inspire their best work, design dream teams, and sustain engagement for the long haul.