PI has implemented a variety of support initiatives to help learners and users get the most out of PI
When I joined The Predictive Index two years ago, I was just starting my performance support journey. I didn't realize it at the time, but so was the company! As I reflected on the eve of my 2nd work-aversary, I thought you might be interested in the steps we've taken to help PI Learners and Users in their moments of need.
Instructor-Led Training Workshops
When Arnold Daniels founded The Predictive Index in 1955, he trained his first clients through a 5-day seminar that covered topics ranging from behavioral psychology to job demands and organizational dynamics. Over time, demands in the workplace scaled this format back to 4 days, then 3 days, and eventually a 2-day format that existed when I joined the company.
That training program was fantastic, but it also had a few challenges. First, it contained a lot of information. It wasn't uncommon for Learners to feel exhausted and a bit overwhelmed at the end of the 2 days. Second, it wasn't targeted by role. Executives, strategic HR professionals, line managers, and recruiters all received the same training and materials. Finally, the program was pretty inflexible, since it was the only training option we offered.
We decided to completely redesign our traditional 2-day workshop into a series of four, half-day blocks of modular training. This modular approach allowed us to create different combinations of training to give clients more options, as well as workshop options for specific roles, such as line manager or recruiter.
We began by developing an introductory half-day PI fundamentals workshop called What Drives People? Next, we built a management-focused module. In combination with the fundamentals module, we now had a 1-day training program called Managing People to Perform. We continued developing modules to construct a 1-day Attracting and Selecting Top Performers for recruiters and a 2-day Becoming a PI Practitioner for our power users.
(Above: training modules that make up the PI Professional Series)
The result of this new modular approach is we're training more Learners than ever with more targeted curricula. An added benefit is that our instructors have found our streamlined design to be easier to deliver. A huge win all around.
Learn more about The Predictive Index and how it can help your organization!
Join 10,000 companies solving the most complex people problems with PI.
Hire the right people, inspire their best work, design dream teams, and sustain engagement for the long haul.
On-Demand Performance Support
When I first joined the company, the Help section of our software needed some help of its own. It was basically a glorified dictionary. The articles were wordy with very few visuals and no interactions. You pretty much had to know exactly what you were looking for, because the search function was very limited and was completely off to the side. It forced our Users out-of-task and resulted in a frustrating experience.
When we decided to rebuild our software platform, we decided to take a new approach to performance support. We completely rebuilt all of the help content and we embedded it directly into the software user flows.
At any point when using the software, users can click the help icon to receive context-specific help right at their moment of need. They receive high-level steps on how to perform tasks within the software.

We also have more than 25 help videos embedded throughout the site. We aimed to keep these videos short and under 2 minutes to get people the information they need right at their moment of need. Best of all, the videos play on a modal screen, so the user doesn't lose any of their work while getting the help they need.

Use of these new performance support assets have been off the charts! Last month alone, we saw our Users visit our performance support articles more than 19,000 times and watch our videos more than 3,000 times.
Catalyst
We pride ourselves on supporting our Clients every step of their journey with us. When I first joined the company, the only way Clients could get their implementation questions answered was to ask their Consultant. If they needed job aids or tip sheets – another call to the Consultant.
We also realized that when our Learners returned to their organizations after attending our workshops, they often had questions about how to get started using PI and implementing it across their businesses. We've learned that if our Clients don't get the help they need, they may stop using the PI System altogether.
This led us to build our most recent performance support initiative – Catalyst! Catalyst is composed of three parts: our online community, education resources, and support.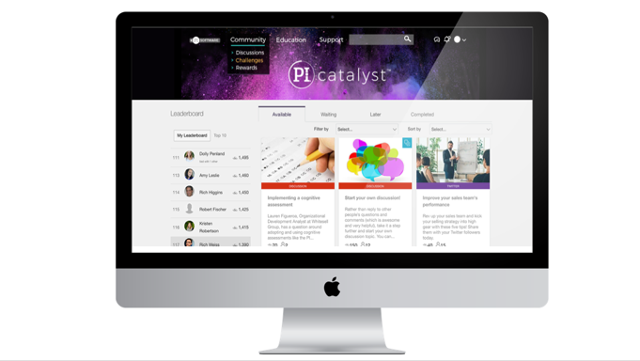 Catalyst provides a space for our clients to participate in discussions, complete challenges, and share stories with peers. Our Education resources provides best practices, tools, templates, and how-to's for implementing PI within your organization.
Finally, if Users have any questions about how to use our software platform, they can head over to the Support section of Catalyst to view more than 60 how-to articles.
What's Next?
It's been an amazing journey over the past 2 years and the good news is that we're just getting started. We have more and more Clients and Users to serve every day and are always looking for new options and ways to provide targeted support for a given User's moment of need.
I can't wait to see what my next 2 years at The Predictive Index will have in store. With so much to do, I'd better get back to work!