We're still realizing many of the pandemic's most profound effects on the workplace. It may be years before we have enough perspective to understand the extent of that toll.
But one thing is already clear: Between the economic impact, the isolation of forced remote work, and everything in between, COVID-19 burned a lot of workers out. The 2021 State of Talent Optimization Report revealed that companies that put their people first stayed more resilient, even amid economic turmoil. But 2020 spared no one, and even the most talent optimized organizations still battle the burnout beast.
One Q1 LinkedIn survey estimated 75% of the current workforce is "sheltering in job"—that is, waiting until the job market improves and, in the meantime, begrudgingly riding out their current tours. So even if you didn't lose your job or take a pay cut, there's a good chance you still paid a COVID cost, whether that's time, energy, or morale.
If you're a business leader or a people manager, that's a jarring thought. You're probably wondering: How do we address an issue that stems from factors so far beyond our control? You can't cure burnout, but you can begin by acknowledging its real effects with your people.
Start with some of the symptoms, asking questions like:
Who's most likely to be burned out?
Which groups are most often disengaged?
Where's the intersection of burnout and engagement?
Join 10,000 companies solving the most complex people problems with PI.
Hire the right people, inspire their best work, design dream teams, and sustain engagement for the long haul.
Who's most likely to be burned out?
The State of Talent Optimization report surveyed 500+ leaders about their talent and business practices in a year upended by COVID-19. According to those respondents, the group that experienced the most burnout over the past year was the managerial cohort (32%). No matter your talent strategy, that's a serious concern. Managers on the ground are the ones motivating the troops day in, day out.
If management is less engaged, then it's often less equipped to perform well. As roles and responsibilities change, these leaders may not be willing or able to meet those evolving needs. There's potentially less emphasis on developing managerial skills, putting managers at greater risk of burning out. All of which begs the question: How can they then be expected to inspire others?
Which group experienced the highest level of burnout in 2020?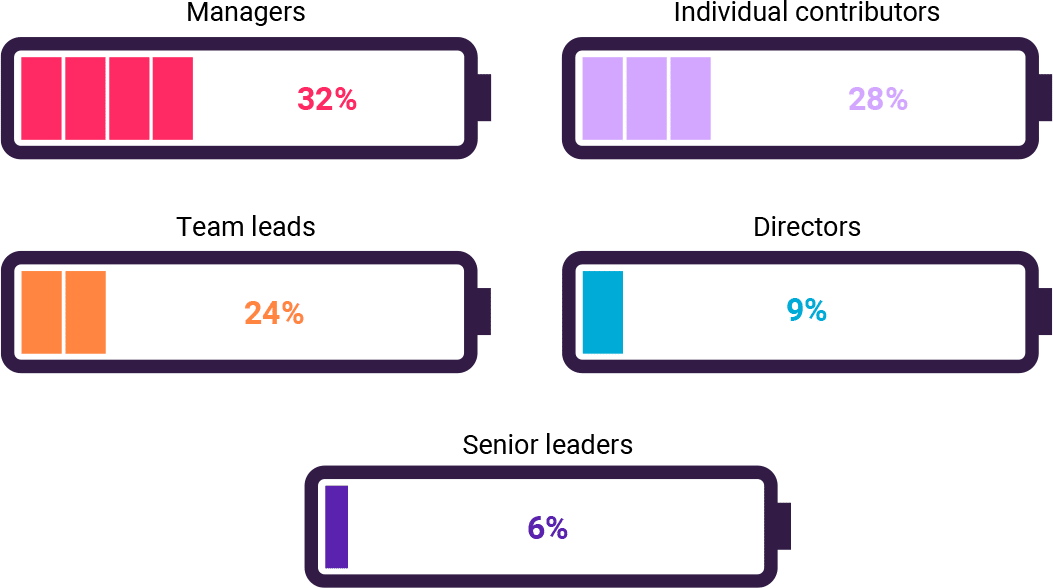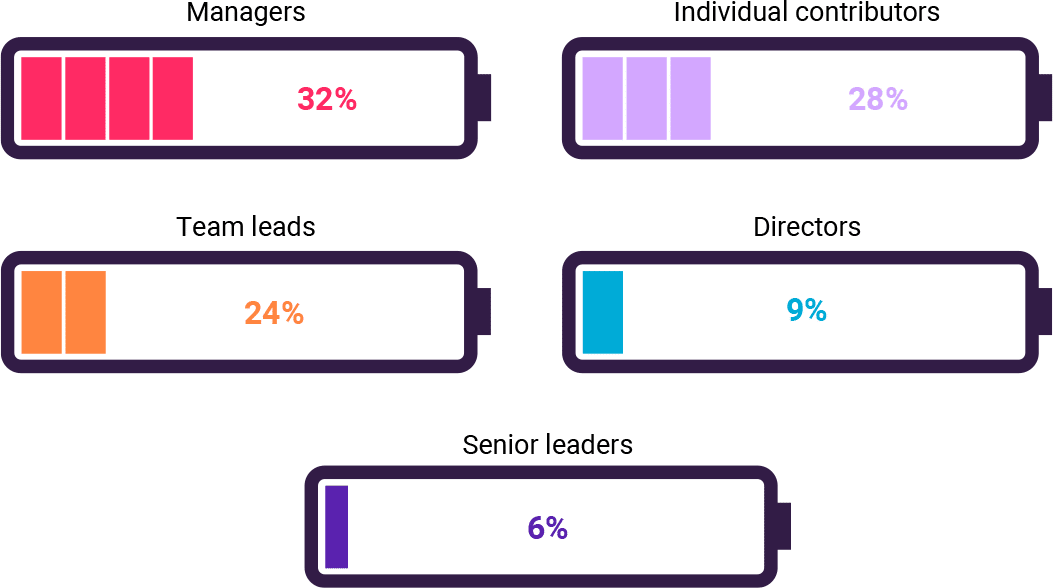 Which groups are most often disengaged?
The State of Talent Optimization found that employee engagement levels varied depending on the size of the company, the industry, how often they measured engagement, and by what metrics. And not every organization experienced disengagement as a company-wide issue—rather, some saw it concentrated among certain groups or roles.
In the interactive below, you can find out for yourself which roles were considered most likely to be disengaged:
We asked: Which group experienced the lowest levels of engagement in 2020?
Drag each position to the appropriate percentage figure based on survey responses.
A large share of respondents were concerned with manager engagement. As noted, managers were the group considered most likely to burn out. Managers are also key to the engagement of individual contributors, which may help explain why ICs were deemed the least engaged group. When managers burn out, they're less likely to give direct reports their full attention.
Where's the intersection of burnout and engagement?
Disengagement is a nuanced issue, and it doesn't always result in burnout. But there are four forces of disengagement that are important to monitor. Those are:
Job fit
Team fit
Manager fit
Culture fit
Let any of these four forces take root for too long, and your employees will eventually burn out—or leave before it gets to that point.
One way to limit poor fit? Make sure your talent and business strategies align. That priority is a hallmark of companies that practice talent optimization. The State of Talent Optimization found that these companies experienced lower levels of burnout (33%) than their misaligned peers.
Tracie Sponenberg, SHRM-SCP, SPHR; CPO, The Granite Group, noted that part of that approach means simply being human. A culture or manager that pushes production over all else may only exacerbate the burnout and disengagement developing in their teams.
"I understand the concern of engagement, productivity and performance under normal circumstances," Sponenberg said. "But remote work during a pandemic is not normal remote work. It's critical for all leaders to lead with empathy, kindness, vulnerability, grace and love in all situations—but especially those as extraordinary as this past year. Have open conversations and be completely open to when, where, and how the work gets done."
Burnout is pervasive during times of stress, and talent optimized companies aren't immune to it. But if your talent strategy is well-defined, your people will be good behavioral fits for the roles and teams they take on. They'll work more harmoniously together, and because they're more engaged, you'll be able to more proactively address core causes of burnout.
Maybe you can't control those root causes, but you will at least have a foundation of trust in place, and communication lines open. From there, you can begin to work toward improvements—together.