Unlock your team's potential
Team Management Software
Improve communication, eliminate conflict, optimize development, and empower productivity with an in-depth understanding of how people work.


Ineffective management, uninspired employees
Putting a ping-pong table in the breakroom is no longer enough. The landscape of work is changing, and employees expect to feel understood, included, and motivated by leadership and culture.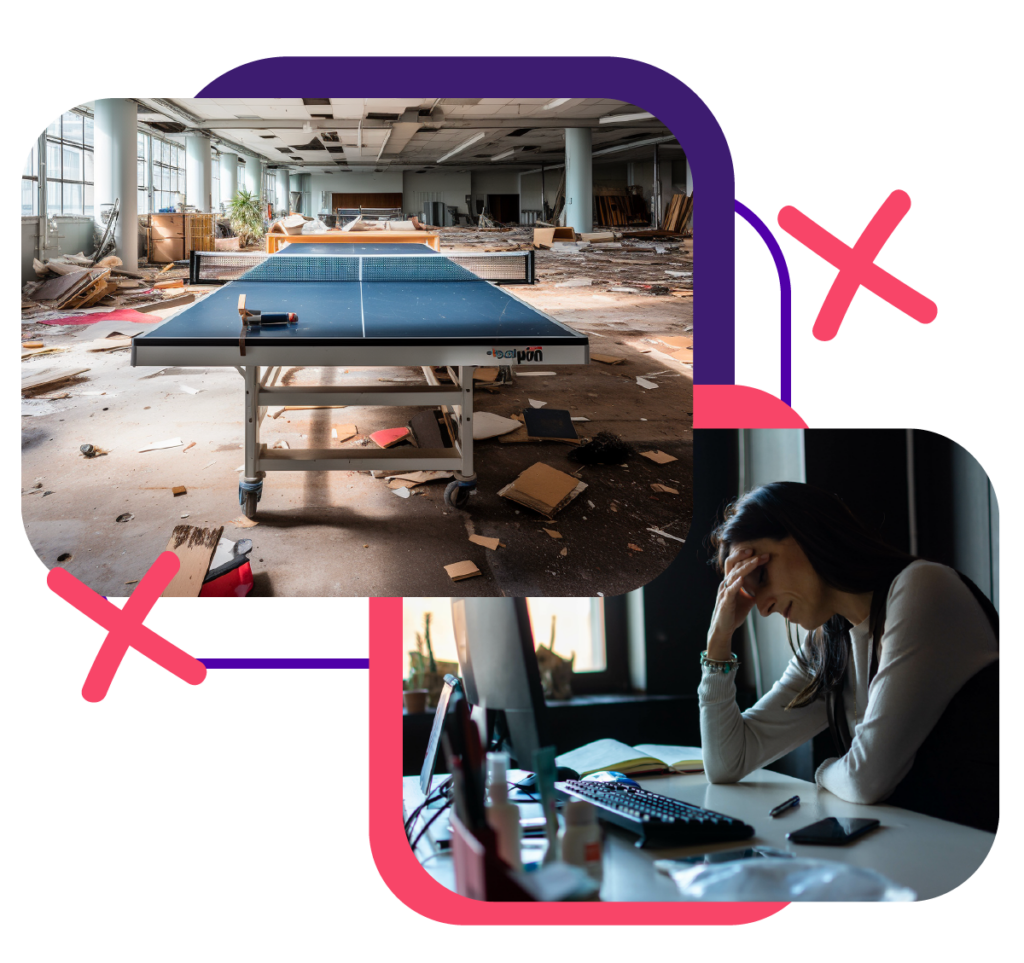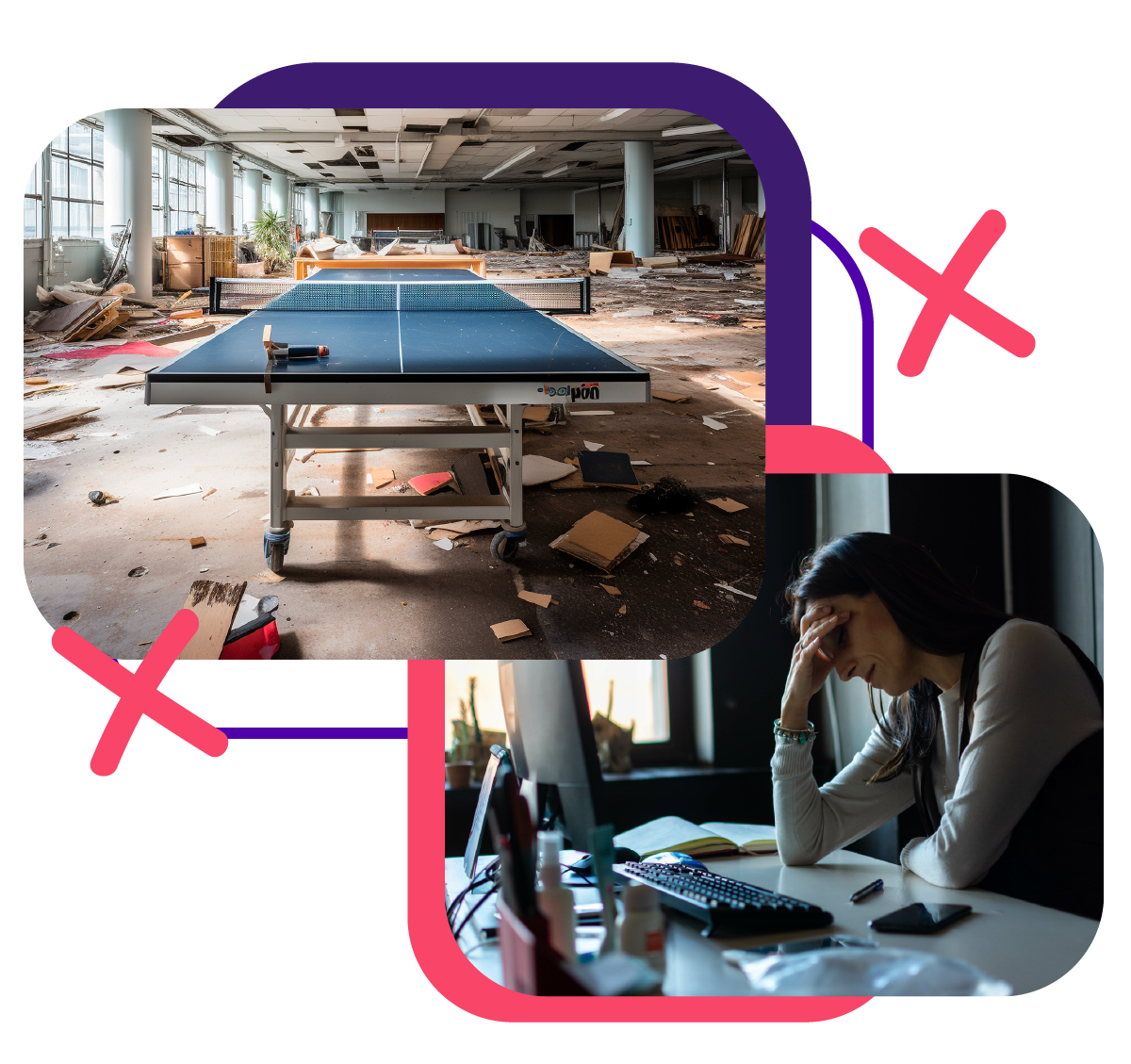 Employee turnover: Hiring and onboarding are time-consuming and expensive processes. Plus, dealing with a revolving door of new hires disrupts existing workflows and has a negative impact on overall teamwork.
Impersonal leadership: Effective management involves more than following up on due dates and project progress. A failure to authentically connect with team members creates a lack of awareness that affects everything from employee engagement to team collaboration.
Poor communication: From inconsistent messaging by management to interpersonal conflict between employees, communication issues are corrosive to company culture, and can turn simple requests into complex projects.
Employees don't quit companies — they quit ineffective managers, unpleasant company culture, and uninspiring work.
Prioritize people, empower performance
Sure, project planning and task management are important at the organizational level — but when employees feel a genuine connection and sense of belonging with their peers, manager, and the job that they do, the logistical aspects of work fall into place seamlessly.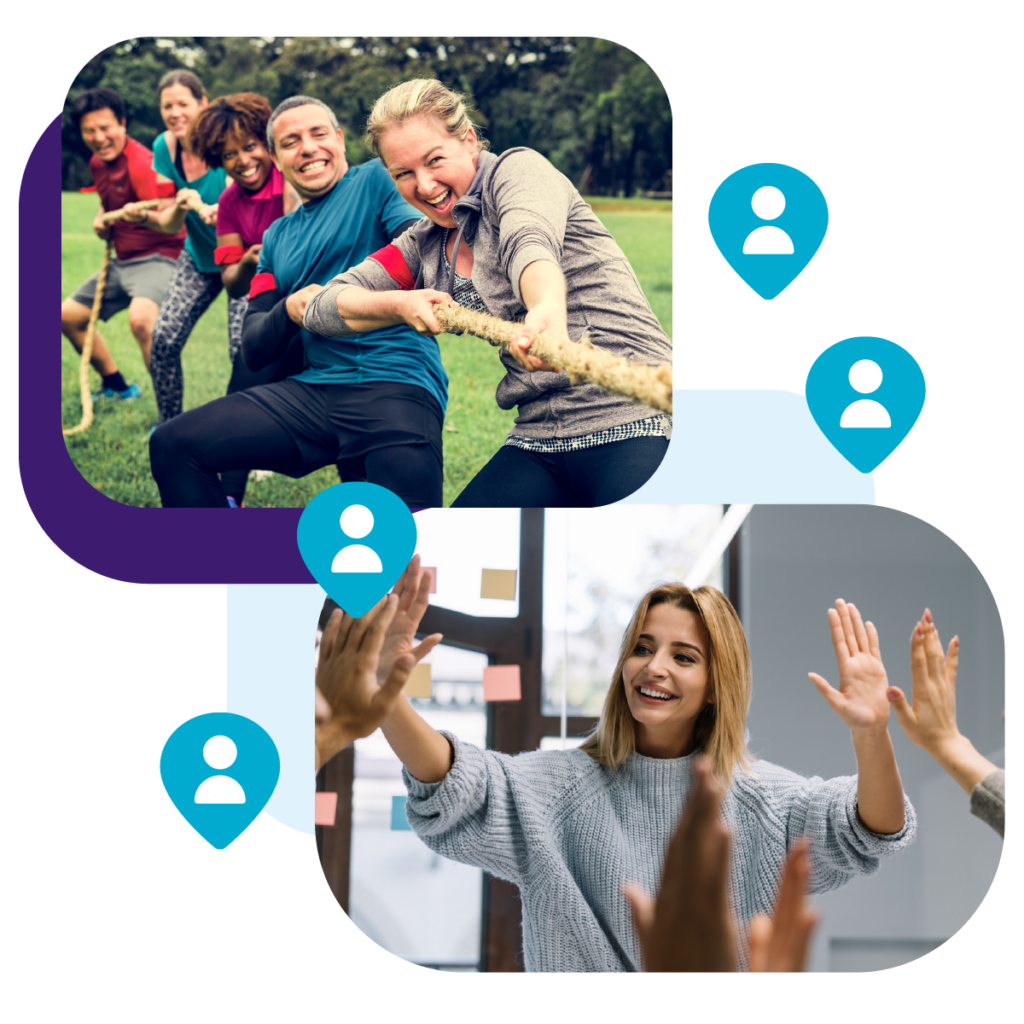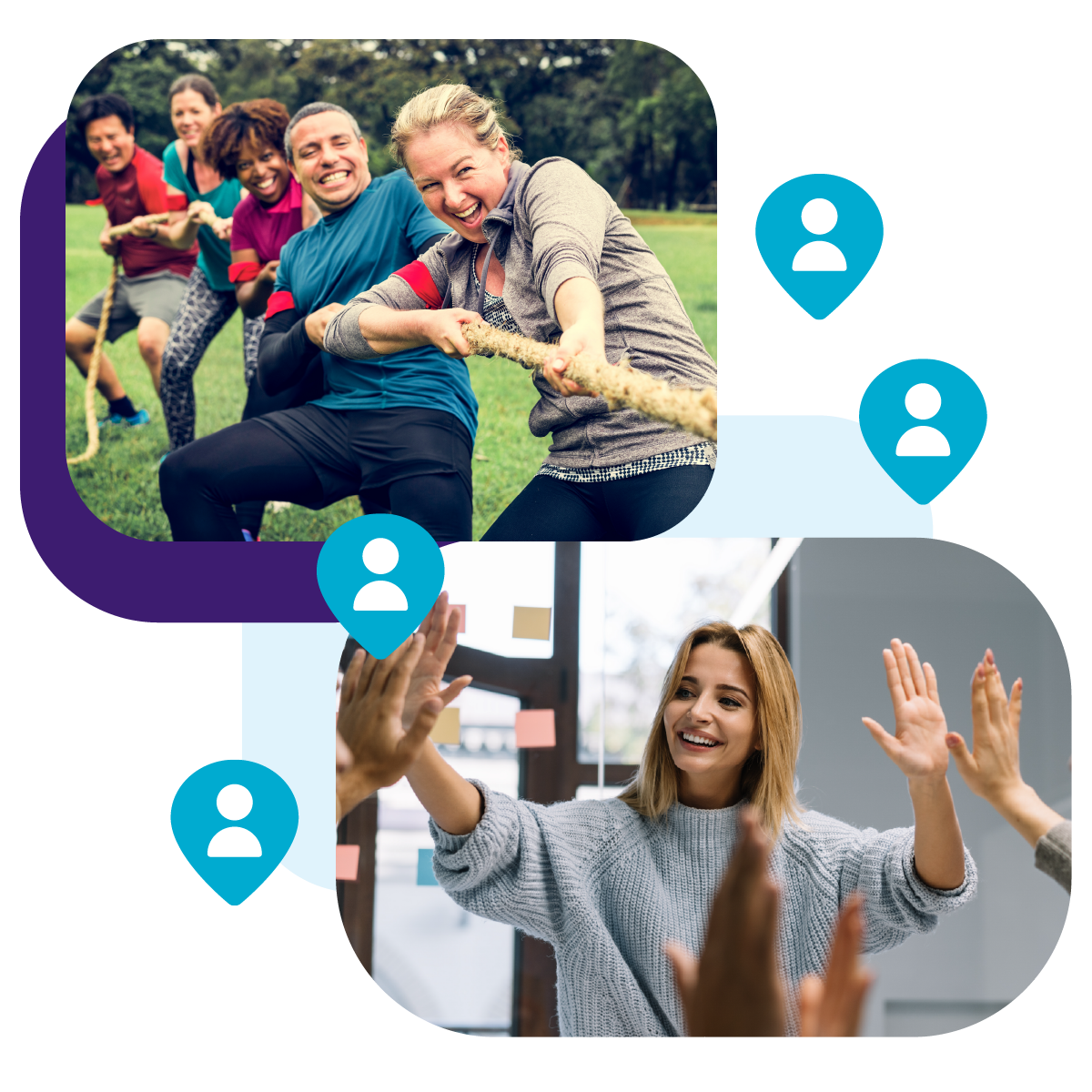 Optimize communication: Clear, open communication builds trust and strengthens culture. Help leaders develop awareness around their own communication style and gain detailed insight about how to effectively communicate with each employee.
Improve collaboration: Understand the strengths, caution areas, motivations, and needs of each employee to build balanced teams and stronger relationships.
Personalize development: Create clear career paths that empower employees to live up to their full potential by offering personalized professional development opportunities.
Average leaders manage teams. Exceptional leaders mentor people.
Join 10,000 companies solving the most complex people problems with PI.
Hire the right people, inspire their best work, design dream teams, and sustain engagement for the long haul.
I wanted to feel with passion and conviction that I had hired the very perfect person. I wanted to prove that a pattern was a significant predictor of sales performance. And with PI, I was able to say just that.
We have significantly evolved over recent years, merging two entities and taking our company public. PI has been a key component in our transition, by helping us break down silos, enhance cooperation, improve business results and increase job engagement.
PI has helped make new employees feel welcome and like a part of the team, and to make them feel like their manager does care about them in a really thoughtful way.
PI protects the manager from making a bad hiring decision and protects the individual from poor performance. It has given me a quantifiable and sustainable approach to predict sales performance.
During a recent merger, PI made it easier for us to identify who was the best behavioral fit for each role, which helped remove a lot of the stress and guesswork from the process.
PI's talent optimization platform gives your managers the proper tools to become outstanding leaders.
Take the guesswork out of discovering what each employee needs to succeed by using science to spark the chemistry that fuels connection, communication, and collaboration.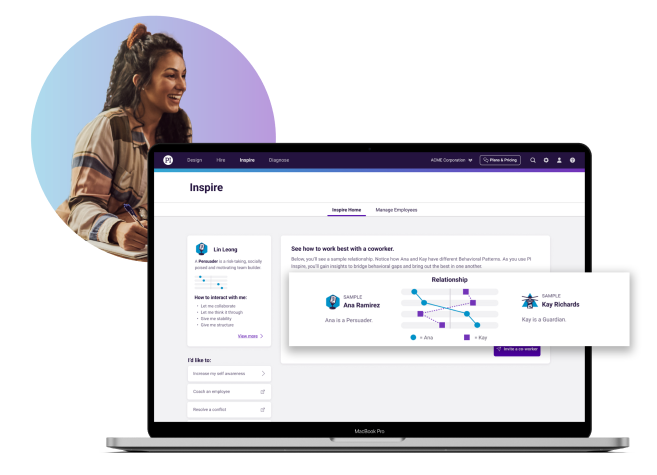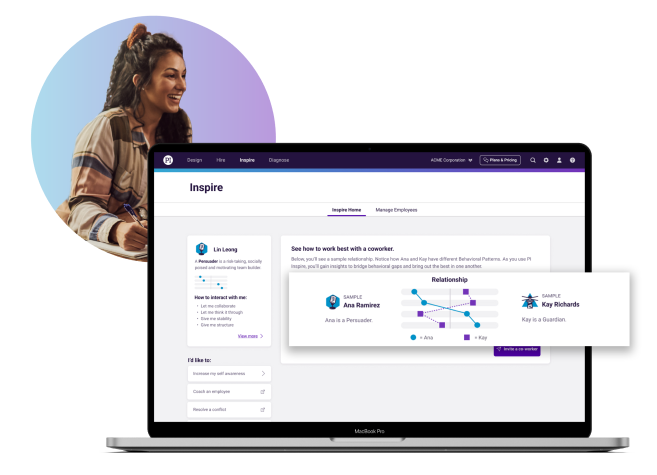 Gain awareness:
PI's platform delivers shockingly accurate — and detailed — results. Use PI's talent optimization tools to learn your strengths and skills as a manager, discover the behavioral drives of each team member, and then compare those behaviors to offer detailed recommendations about effectively managing your team.
Increase engagement:
With science-backed insights on how your employees are wired to think, work, communicate, and make decisions, you'll know exactly how to manage and motivate each direct report, in one tenth of the time. With deeper empathy and understanding, you'll build a culture of respect, trust, and collaboration that will have everyone on your team showing up in new ways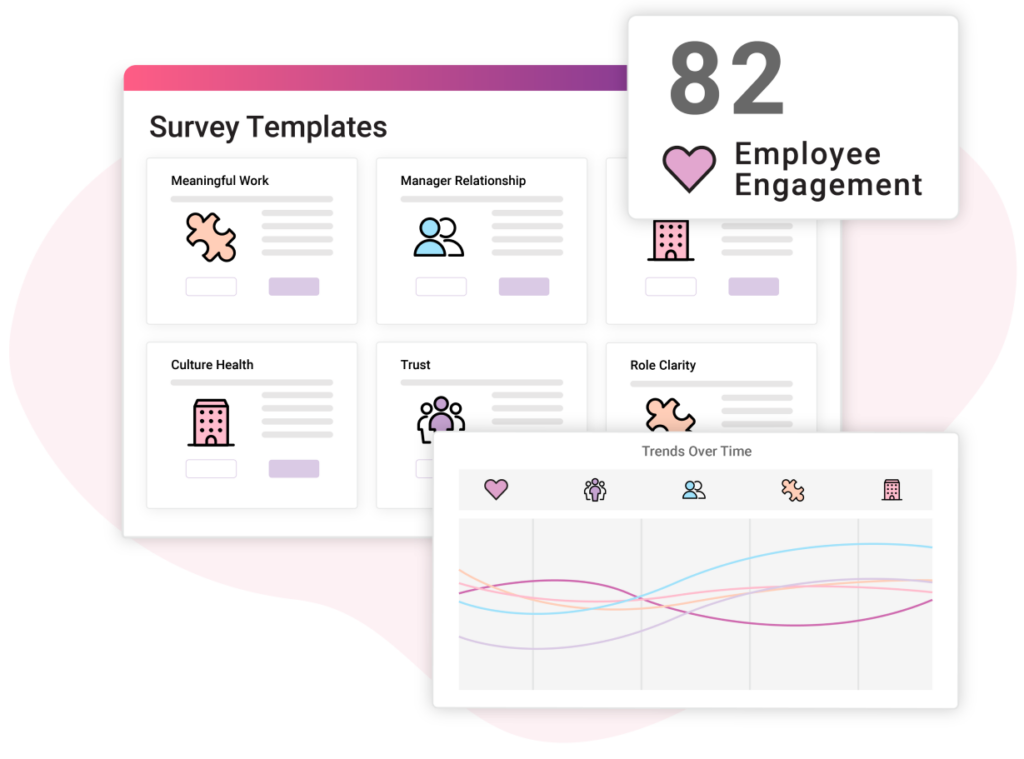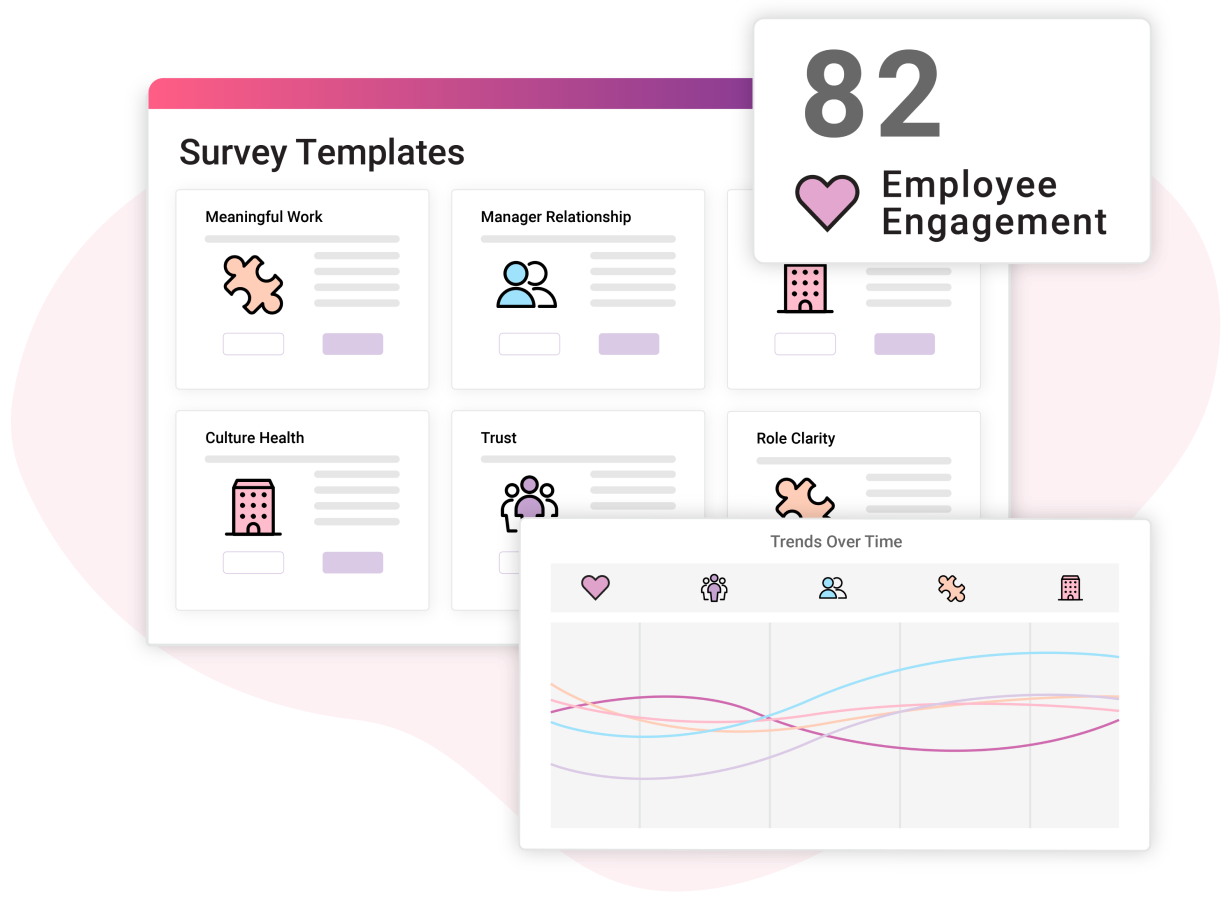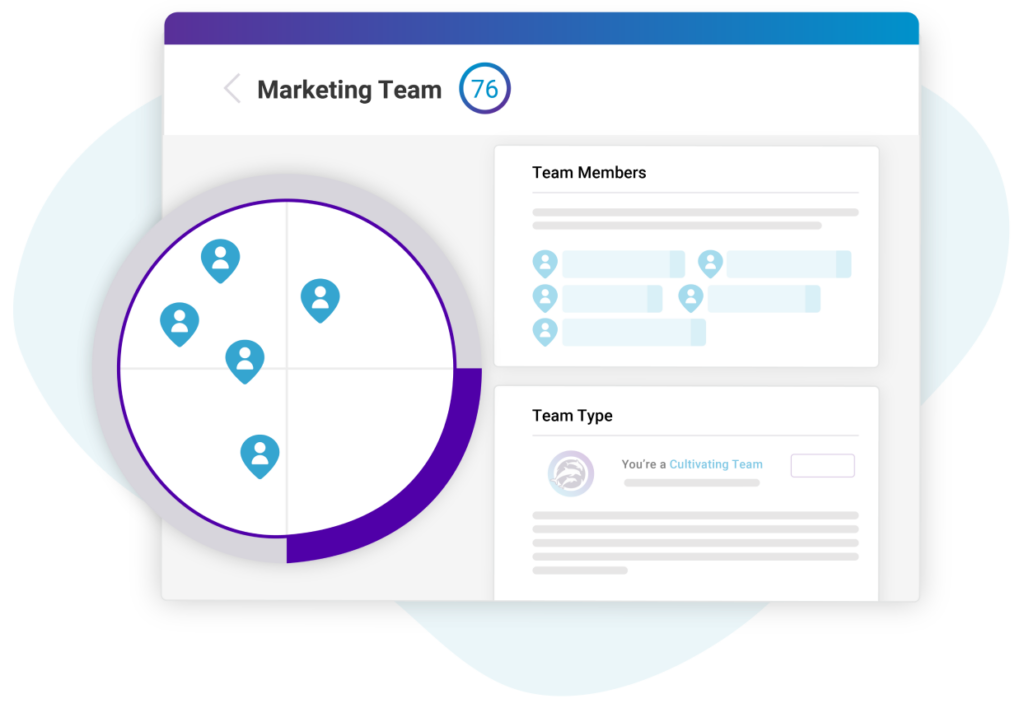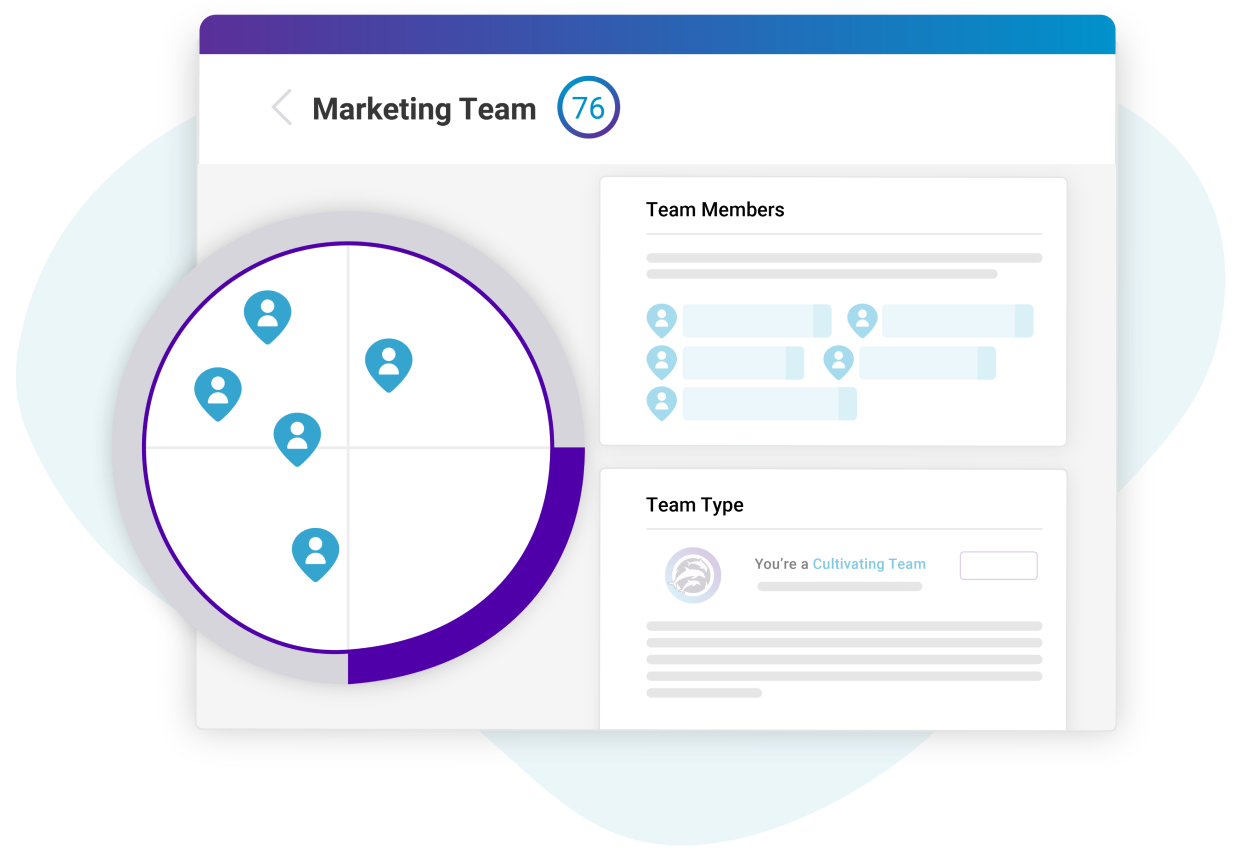 Improve team cohesion:
Maximize compatibility and simplify collaboration by using behavioral data to handpick teams and easily create a customizable balance of the strengths, weaknesses, communication styles, and personality types of team members.
End people problems:
Manage and avoid conflict between employees by using powerful relationship advice based on behavioral profiles to mediate interpersonal issues. Protect company culture by building relationships that drive impact across your company through shared understanding.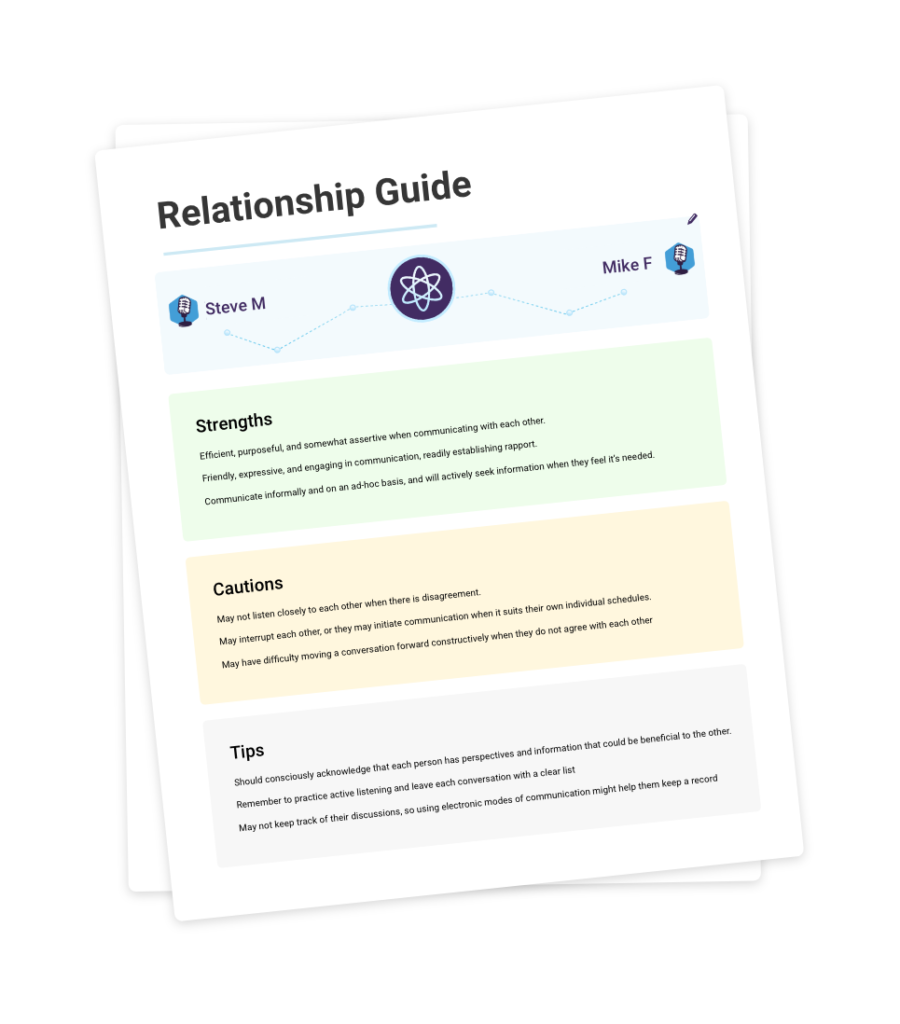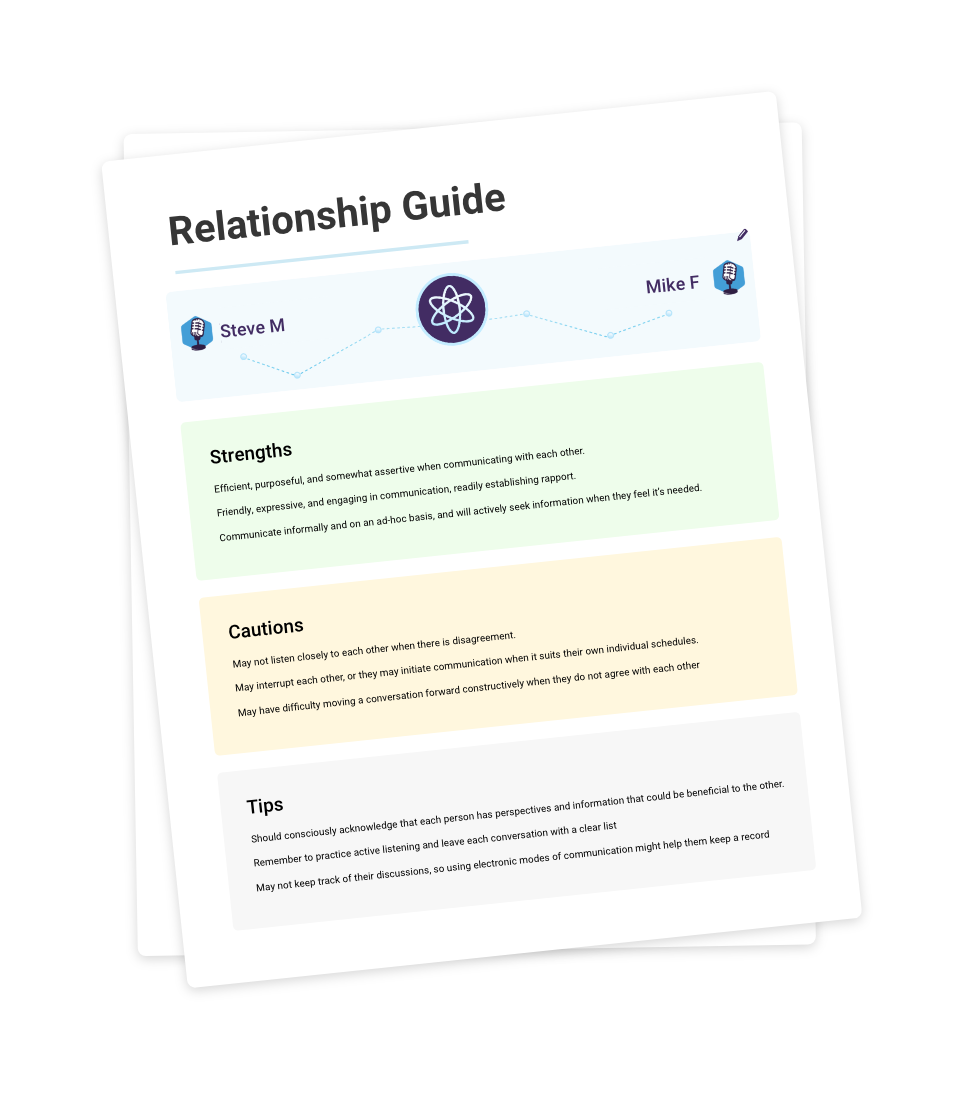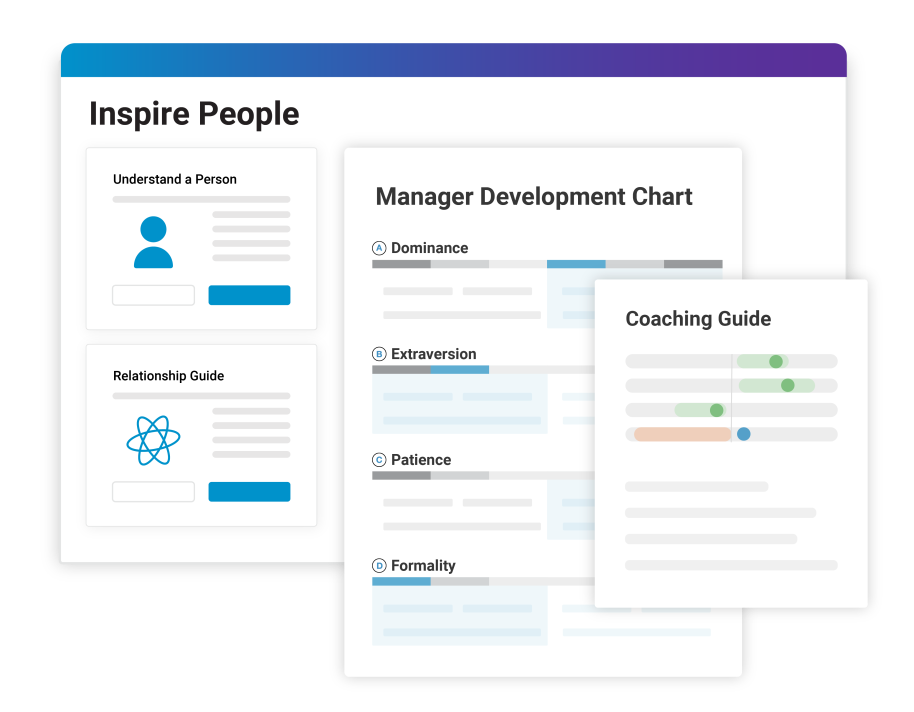 Elevate leadership skills:
Take a personalized approach to people management with tools that offer expert-backed guidance on coaching, developing, and motivating your direct reports. Improve the employee experience and increase retention rates by being the leader each team member needs.
Take your leadership skills to the next level
Frequently asked questions
Elevate your team

Exceptional leaders empower employees to reach their full potential. Put science to work for you with behavioral assessments and data-based guidance that fuels deeper connections, builds stronger relationships, and effortlessly encourages an enduring company culture.